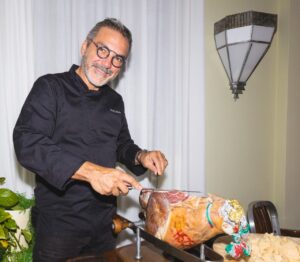 After two years of undergoing significant renovations, the historic Pelican Hotel in South Beach reopened its doors with a VIP celebration during Art Basel Miami Beach last weekend. The penthouse party was hosted by Renzo Rosso, owner of Pelican Hotel, who is also OTB Group's president and DIESEL's founder. VIP guests experienced an intimate preview of the beachfront property at 826 Ocean Drive while Renzo and his son Andrea Rosso, designer of the property, provided insight into the legendary 32-guest-room boutique hotel and its playful design. Guests also enjoyed drinks and bites at the hotel's signature eatery, Pelican Café, helmed by Italian chef Wendy Cacciatori (pictured).
"The Pelican was one of the first most important boutique hotels in the world. Its original spirit has now been restored by my son Andrea, with authentic Deco furnishings to keep its uniqueness intact," Renzo says. "Every room creates the perfect background of a new adventure."
Situated on Miami's Ocean Drive overlooking the Atlantic Ocean, the design-centric oceanfront property was initially built in 1948. Renzo purchased the hotel in 1990, and it was then designed and decorated by Renzo and the brand's creative team. Room themes range from the DIESEL denim "Old Glory" to the nature-permeating "Green Boo." It also features the James Bond-like "Penthouse One" (usually Renzo's preferred room), which boasts one of the most extensive private terraces on Ocean Drive with unparalleled ocean views. The restored property also showcases its redesigned in-house restaurant, the Pelican Café.
"The Pelican Hotel is a cornerstone of Ocean Drive, and it will always lead the pack with its one-of-a-kind style," Andrea says." We are delighted you could all join us this evening to be the first to preview this major transformation."
To book or for more information, visit www.pelicanhotel.com.
Photo Credit: BFA