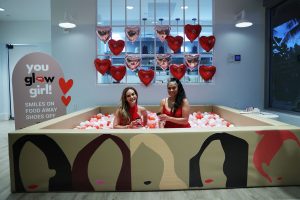 Eat Me Guilt Free, a health-focused line of bread, brownies, snacks and tortilla wraps, recently launched its 2022 "You Glow Girl" grant program to help empower business leaders. The program began in 2021 after Eat Me Guilt Free CEO and founder Cristie Besu wanted to further her commitment to empowering female founders like herself to glow and grow professionally and personally.  
Besu established the grant program to enhance the female empowerment community by bringing together women entrepreneurs and leaders who will uplift one another and continually rewrite the traditional business narrative. She invites all "glow-getters" to apply for the grant for a chance to level up their business in 2022.  
The grant's debut in 2021 resulted in more than 320 applicants, spanning several industries, including food and beverage, skincare and cosmetics, health and fitness, education, technology and software, marketing, fine art and hospitality. After a comprehensive review process, BagValet founder Amanda Sheridan was chosen as the winner. Her entrepreneurial spirit, savvy business plan and "boss babe" mentality captured the attention of Besu. BagValet assists travelers in bridging the gap between lodging accommodations and flight times by providing daily luggage storage with the convenience of door-to-door service.
This year Eat Me Guilt Free hopes to reach even more women by making it easier to apply. Aspiring women can apply for the 2022 "You Glow Girl" grant by uploading a 30-60 second video to https://www.eatmeguiltfree.com/pages/youglowgirl  by July 1. After an initial review process, 25 semi-finalists will be selected and invited to submit a video submission by July 25. Then, on Aug. 1, ten finalists will be announced and participate in virtual interviews with Besu and a panel of business experts. The grant winner will be announced on Aug. 19. 
The 2022 "You Glow Girl" grant winner will receive $10,000 to help her business flourish and a one-year supply of Eat Me Guilt Free products to stay fueled. New for 2022, the winner will receive access to a mind, body, spirit virtual suite, including a monthly check-in with mental health professional Gabriela Reyes, MFT of @mindful.gee; a ClassPass subscription; and a Calm or Headspace subscription to practice mindfulness. The winner will also be awarded a two-part immersive coaching and mentorship experience with Besu, including a two-day retreat to Miami to Eat Me Guilt Free's headquarters to focus on strategic planning and goal-setting and opportunities to meet with other experts in Besu's network. Part two will include a visit from Besu to the winner's headquarters for extensive one-on-one coaching specific to the winner's business. 
"After a successful debut in 2021, we are excited to launch the 2022 'You Glow Girl' grant," Besu says. "Supporting female entrepreneurs is a true passion of mine. We started the grant program to bring to life the true purpose of empowerment, as well as to provide the guidance and resources necessary for female entrepreneurs to live out their business dreams. The responsibility is on us as female business owners to take measurable actions to lift up other women walking the path of entrepreneurship."
As a registered nurse and certified sports nutritionist-turned mompreneur who began baking Eat Me Guilt Free treats straight from her own kitchen in 2013, Besu knows that the struggle can be real when it comes to female entrepreneurship. Besu relied solely on her own personal financial savings, commitment and a loyal clientele to launch Eat Me Guilt Free. She made significant sacrifices to launch her brand and has firsthand experience of the hardships and barriers limiting female entrepreneurs from succeeding. She recognized many crucial points in her journey as a female entrepreneur where she could have used guidance and a financial boost. She realized she wanted to help other female entrepreneurs with the very things she needed help with. 
Eat Me Guilt Free now boasts a team of highly skilled artisan bakers. The product line's baked goods offer a protein-packed, low-carbohydrate ratio, making them a healthier alternative to traditional snacks. The brand never sacrifices taste or texture when creating original recipes by providing health-conscious alternatives to sweets that fitness/wellness enthusiasts can feel good about putting into their bodies. 
Today Besu's guilt-free and protein-packed brownies, bread, baguettes and tortilla wraps are available for purchase at more than 7,500 independent retailers nationwide, GNC, The Vitamin Shoppe, as well as through Amazon.com, Walmart.com and EatMeGuiltFree.com. 
For more information or to apply for the "You Glow Girl" grant, please visit https://www.eatmeguiltfree.com/pages/youglowgirl.