Tinkering with an icon is always a risky proposition. In the realm of automobiles, the Ford Mustang is certainly iconic, an object of uncritical devotion, idolized over generations. In affixing the Mustang badge to its new all-electric SUV—the 2021 Mustang Mach-E—Ford raised some eyebrows.
Will enthusiasts with garages adorned with posters of vintage Mustangs embrace the reimagining of the brutish muscle car as a high-tech marvel with both brawn and brains? Or will they declare it to be heresy against the revered nameplate?
It's a complex debate. The generation that came of age during the prime years of Mustang adulation—and many in the generations that follow—still crave the unbridled power and exhilaration that comes with driving a performance machine. But they are saddled with the dichotomy of needing something more practical, more efficient and perhaps more environmentally sound.
Discussions over nomenclature aside, Mach-E is a formidable competitor for Tesla's Model Y. Its design language borrows heavily from Mustang's stable of vehicles. It has that familiar sleek silhouette, enhanced with muscular curves that speak the language of power and driving prowess. Signature elements such as the elongated hood, powerful rear haunches and trademark tri-bar tail lamps ensure that Mach-E is instantly recognizable as a Mustang.
"Mustang is not just a model—it is a brand on its own," says David Menten, chairman of the South Florida Ford Dealers Association. "The fact that this vehicle shares so much of its design DNA with the Mustang is going to be key to its success. Those who love the sports car feel of the Mustang will not have to make sacrifices now that they want to move into a four-door electric vehicle."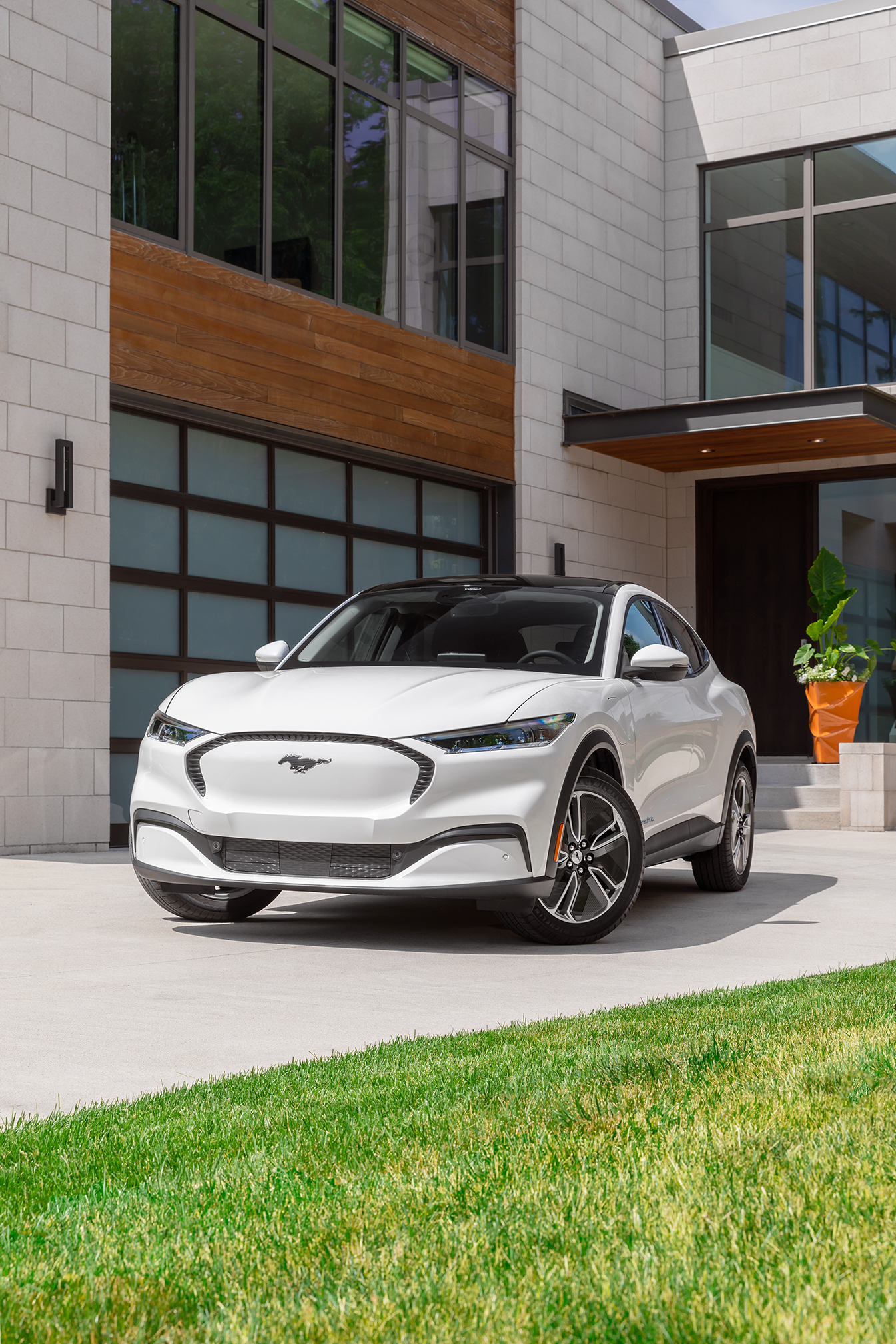 Naturally, if it's a Mustang, it has to provide exhilarating performance. Mach-E is the first production vehicle to be tuned by Ford's performance team. Electric vehicles are quick off the line, and peak power on the Mustang Mach-E ranges from 250 to 332 horsepower, with all-wheel drive, extended-range models packing the biggest punch. A high-performance GT model will debut sometime this summer, targeting 459 horsepower and a zero-to-60 time in the mid-three-second range.
Three distinct drive experiences—Whisper, Engage, and Unbridled—offer finely tuned driving dynamics, combined with unique sensory experiences such as instrument cluster animations tied to driving behaviors, ambient lighting changes and varying sounds tuned for the driving experience. Under the hood, you'll find not the lithium ion batteries that will power the Mustang Mach-E over 210 miles on a single charge (270 with the extended range option), but rather an additional 4.8 cubic feet of storage space. Nice? Sure. But upping the cool factor, this space is drainable. Pack it full of ice for tailgating or a trip to the beach or campsite.
The interior is a fusion of sleek, modern design and smart functionality, seating five adults comfortably, leaving 29 cubic feet of trunk space behind the rear seat. A premium Bang & Olufsen sound system seamlessly floats above the air vents like a sound bar. The next-generation Sync communications and entertainment system eschews complicated, multilayer menus in favor of a 15.5-inch touchscreen that mimics a smartphone interface, and learns your preferences, improving over time via over-the-air updates. New "Phone as a Key" technology lets you unlock and drive the vehicle simply by having your smartphone in your pocket or bag.
Mustang Mach-E is available in four models: Select ($42,895), Premium ($47,000), California Route 1 ($49,800), and GT ($60,500). Enhanced range and all-wheel drive are available, and all are eligible for a $7,500 federal tax credit.
Back in 1964, Ford sold 22,000 Mustangs the day it hit showrooms, making it the most successful vehicle launch in history. While not quite hitting those records, Menten has seen demand for this newly imagined Mustang. "I have customers who ordered a Mach-E the first hour of the first day," he says. "They are champing at the bit to get the phone call to come in and take delivery."