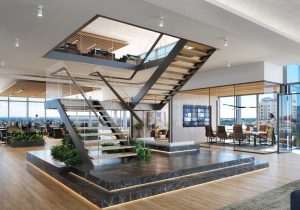 Brand Atlantic Real Estate Partners and Wheelock Street Capital partnered to finalize an $87 million construction loan with Acore Capital for their development of two boutique Class-A office buildings located in the Clematis Waterfront District in West Palm Beach. Plans for 300 Banyan and 111 Olive include over 125,000 square feet of Class A office space, private outdoor terrace space and a 300-space parking garage.
The financing provides funding for the renovation of 111 Olive, which includes 27,000 square feet of office space and 11,000 square feet of retail space to be delivered by year-end. It also funds the vertical construction of 300 Banyan, a 12-story tower with 115,000 square feet of office space and 6,000 square feet of ground floor retail, to be delivered in early 2024.
"Securing this loan with a great lender in Acore Capital further supports our conviction in the West Palm office market and affirms, particularly in this challenging environment, that Banyan & Olive is a best-in-class development," Andrew Dance says, managing partner of Brand Atlantic. 
Banyan & Olive aims to offer tenants a turnkey workplace that fosters collaboration and productivity in a variety of settings, both indoor and outdoor, with a level of luxury and convenience superior to working from home. Featured building amenities include floor-to-ceiling windows with expansive water views, 15,000 square feet of private office terraces, a golf simulator lounge and a 7th-floor amenity loggia boasting an indoor/outdoor fitness center and an open-air lounge with water views, shaded seating groups, and lush landscaping. 
"We're proud to be taking the next steps to bring this project to the West Palm Beach community," Hunter Jones says, Principal at Wheelock Street Capital. "This project marks the first construction of Class-A office space in the area in decades, and we are excited to be a part of it."
Newmark's Debt and Structured Finance team, led by Dustin Stolly and Jordan Roeschlaub, secured the loan on behalf of ownership from Acore Capital.
"West Palm Beach has become one of the strongest growth markets in the country, recently driven by financial and technology firms permanently relocating or expanding to what was historically a seasonal outpost," Dustin Stolly says, Vice Chairman of Co-Head Capital Markets Debt and Structured Finance for Newmark. "The Sponsorship team has the perfect design to capture the live/work/play demand trends of the area and an aesthetic that will lift the neighborhood to new heights."