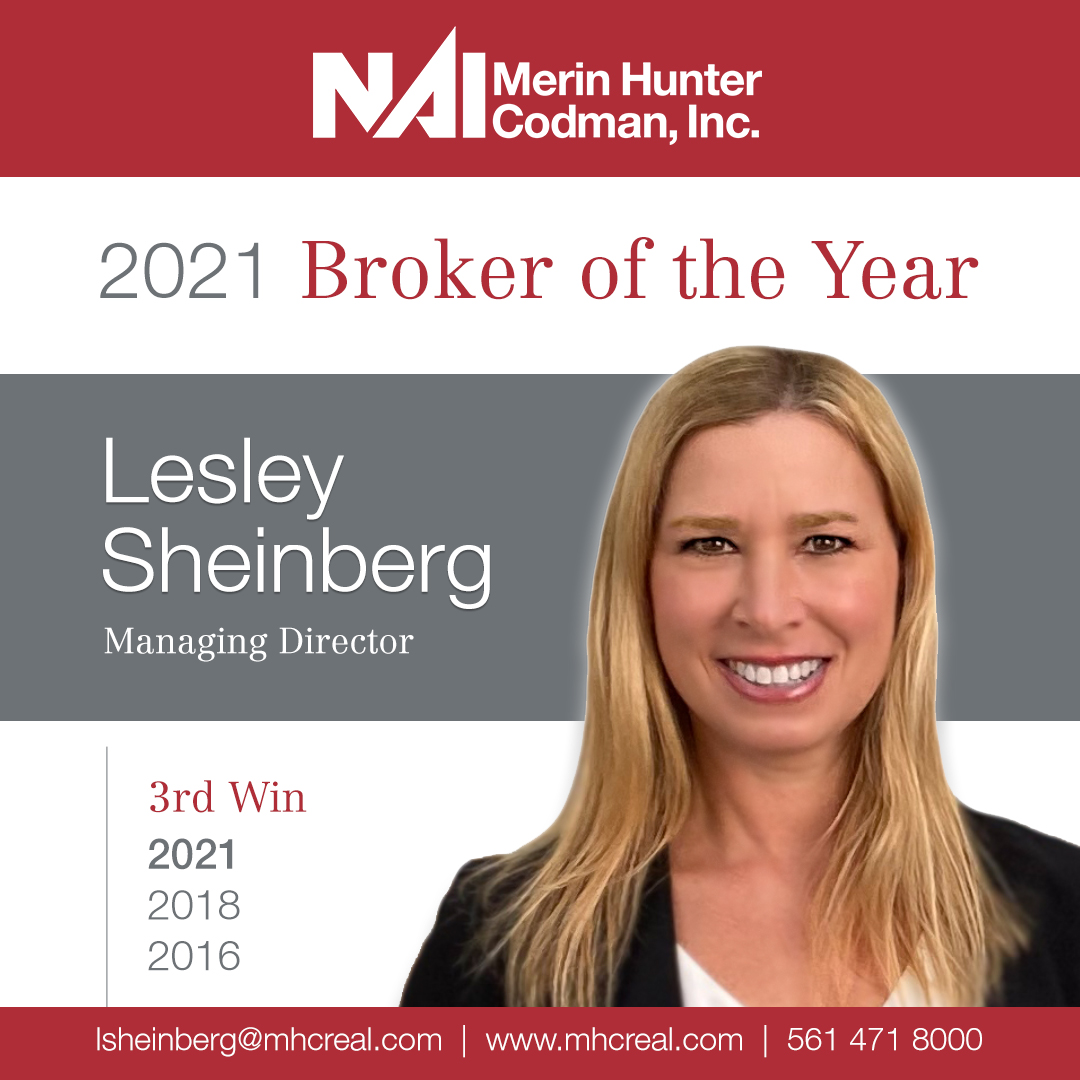 NAI/Merin Hunter Codman Announces 2021 Broker of the Year
Lesley Sheinberg won her third Broker of the Year award at the South Florida commercial real estate firm
NAI/Merin Hunter Codman, Inc., one of South Florida's leading commercial real estate firms, named Managing Director Lesley Sheinberg its 2021 Broker of the Year. Sheinberg has completed over 2.5 million square feet of leasing and disposition transactions totaling approximately $350 million. She specializes in office and medical commercial real estate with vast experience in retail and industrial transactions, representing landlords and tenants throughout Florida and the United States.
In 2021 Sheinberg oversaw nearly 50 completed transactions totaling approximately 300,000 square feet worth more than $35 million. During her 2021 transactions, she represented landlords, tenants, buyers and sellers, closing various deals in some of Palm Beach County's most prestigious downtown and suburban buildings, including 360 Rosemary, Esperante Corporate Center, Golden Bear Plaza, Fairway Office Center and 3501-3601 PGA.
"Lesley's successful career can be directly attributed to her ability to persevere, which allows her to find creative solutions to meet her clients' goals," says Jordan Paul, CEO of NAI/Merin Hunter Codman. "She's a true market leader and expert in her craft. We are honored to name her as our 2021 Broker of the Year."
Sheinberg is also a newly added member of the Board of Directors at the Bak Middle School of the Arts Foundation (MSOA) and serves as a member of the Palm Beach County Medical Society, AEC Trendsetters of Florida, US Green Building Council, PGA Corridor Association and as an Adopt-A-Family contributor.
"Lesley's commitment to her clients and community throughout the years has consistently made her a top broker within the firm and in our community," says Chairman Neil E. Merin, SIOR, CCIM. "Congratulations, Lesley, well earned."