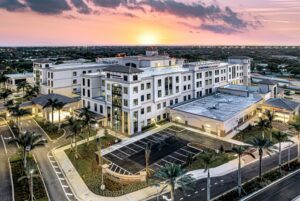 HCA Florida Healthcare officially opened its new HCA Florida University Hospital in Davie. The state-of-the-art facility is adjacent to the Nova Southeastern University campus. It represents one of HCA Healthcare's most significant investments in delivering the latest advances in personalized care to South Florida communities.
"The new HCA Florida University Hospital is the latest example of our long-standing commitment to providing patients access to advanced treatments, innovative technologies, and experienced specialists and care teams who treat patients like family," says Chuck Hall, national group president at HCA Healthcare. 
The 300,000-square-foot hospital comes equipped with the latest medical technology. It offers comprehensive healthcare services, including 24/7 emergency care, maternity services with a level III NICU and a full range of robotic and minimally invasive surgical services. The HCA Florida University Hospital boasts 600 expert physicians on staff with 165 beds that can expand to 435 based on community needs. 
Plantation General Hospital will change its name to HCA Florida Plantation Emergency as it operates under the direction of HCA Healthcare's sister facility HCA Florida Westside Hospital. It will continue providing high-quality patient care as a freestanding emergency department. The University Hospital and Medical Center in Tamarac will now function under the name HCA Florida Woodmont Hospital. 
These facilities are the first of more than 400 sites of care across Florida to begin using the HCA Florida Healthcare brand. By spring 2022, the remaining sites of care in Florida, including hospitals, freestanding emergency rooms and physician practices, will officially adopt the statewide brand to unite more than 11,000 active and affiliated physicians and more than 77,000 colleagues.