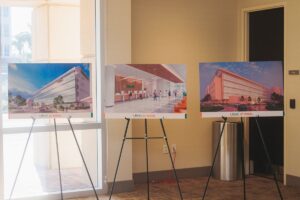 A collaboration between Downtown Doral, the city of Doral, Miami-Dade County and UHealth will help bring the latest health, wellness and transportation advancements to the South Florida area. The $7.7 million transportation project managed by Miami-Dade County's Department of Transportation and Public Works (DTPW) features a corridor upgrade to widen NW 84th Avenue from NW 58th Street to NW 74th Street in Doral. The two-lane street will be upgraded to four lanes, with the two additional lanes serving as the bus-only lanes. It will also feature new drainage, signage, marking and street lighting.
"World-class destinations boast world-class public transit," Miami-Dade County Mayor Daniella Levine Cava says. "By working with strong cities like Doral and anchor institutions like the University of Miami, we'll be able to expand existing service and connect more riders to more of Miami-Dade County."
Part of the project will also be used to establish a trolley route between City Hall in Downtown Doral and the DTPW's Palmetto Station on NW 74th Street.
"The City of Doral will soon be connected to mass transit and world-class healthcare—placing it on an entirely new level," Armando Codina says, Executive Chairman of Codina Partners, the developers of Downtown Doral, who are also vesting in the project with the donation of two trolleys. "Within five minutes, you can be at a train station that can take you into Downtown Miami or connect you to lines that can take you up the Florida Coast to Palm Beach and beyond—making Doral the most central and connected City within Miami-Dade County boasting some of the finest healthcare in the nation—a model for all municipalities to follow."
A new 150,000-square-foot UHealth facility at Downtown Doral will also be created as part of the project. The dedicated trolley lane will help transport future employees and patients to the new medical center. The state-of-the-art medical center will feature six stories, 33 exam rooms, eight operating rooms and three endoscopy suites. The facility will include 11 different medical specialties, including cancer care from Sylvester Comprehensive Cancer Center and a host of other specialties, including cardiology, gastroenterology and hepatology, internal medicine orthopedics, gynecology and imaging.
"This new facility will allow UHealth to bring preeminent care to the rapidly growing Doral community of more than 81,000 residents and will serve as a western hub for our expanding network of ambulatory services," Dr. Julio Frenk says, University of Miami President. "This new facility builds upon the longstanding partnerships that the University has in the South Florida community."