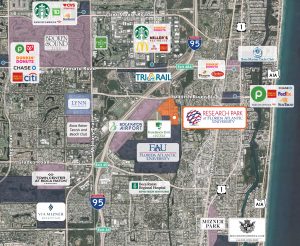 PEBB Enterprises and Banyan Development formed a partnership to pay $37.5 million for a long-term ground leasehold interest position in the Research Park at Florida Atlantic University in Boca Raton. The portfolio consists of seven multi-tenant office buildings totaling 308,305 square feet. The sale of the ground lease closed last month. The seller was an international sovereign wealth fund represented by Avison Young's Florida Capital Markets Group.
PEBB and Banyan plan to work with the Research Park and FAU's existing economic development team to implement a substantial improvement program to upgrade the office-based research park and drive leasing activity. The office buildings are currently 65% occupied, the only state university-affiliated research park in South Florida and is considered a premier technology business incubator for the area.
The Research Park at FAU allows companies to work in partnership with FAU faculty across the University's 10 colleges to collaborate and transform the property into a cutting-edge research and development park that can strengthen and diversify Boca Raton's business community.
Collective goals for the venture include growing and evolving the park as a leading university-affiliated healthcare and medical hub and a biotech advanced engineering center to create a community where entrepreneurs and academic researchers come together to collaborate and develop thriving businesses. The group also sees tremendous opportunity in artificial intelligence, sensors, machine learning and other industries where FAU already has a significant presence. 
"The commitment of the PEBB and Banyan teams to strengthening the tenant roster with companies focused on R&D and creating new technological and economic energy for Boca Raton and Palm Beach County is very exciting as we continue to seek to be the premier destination for innovative R&D companies in Florida," Andrew Duffell says, president of the Research Park at FAU.
For PEBB, the acquisition continues a trend of investing in Boca Raton office properties with value-add potential. In 2021, the company purchased the 1801 Building in midtown Boca and the 5900 Building within the Park at Broken Sound.
"This is a unique opportunity to own and operate prime office space adjacent to the FAU campus," Ian Weiner says, the PEBB Enterprises president and CEO. "The portfolio's immediate access to I-95 and the Boca Raton Airport make it extremely appealing to tenants. We continue to target new investment opportunities in Boca Raton, which is underserved from an office supply standpoint."