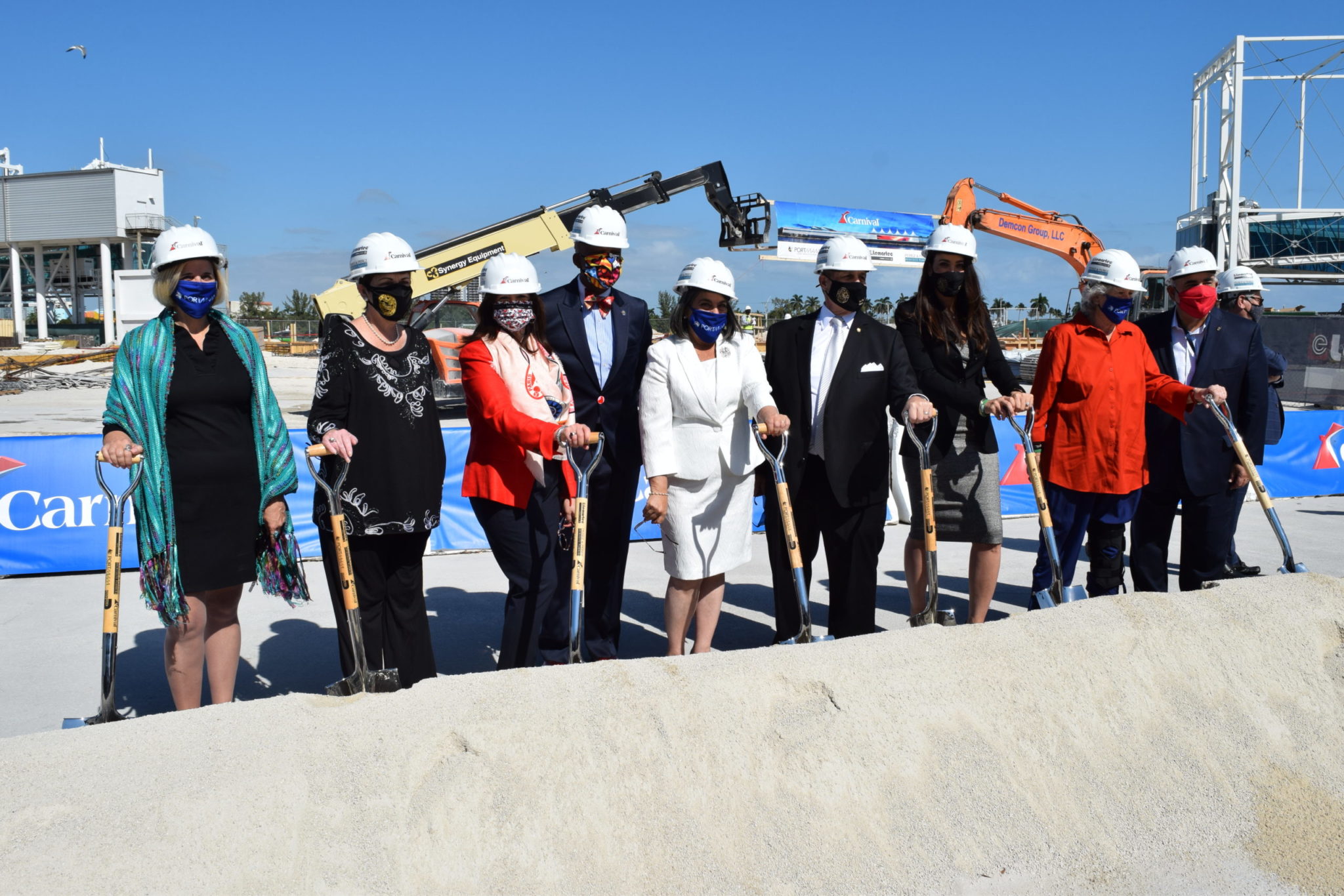 Upcoming improvements to PortMiami will benefit South Florida's cruise and trade industries. Last week, the groundbreaking ceremony for Terminal F gave a taste of what's to come for the port.
The 471,000-square-foot terminal is set to become Carnival's third at PortMiami and the largest in South Florida. Terminal F (rendering pictured above) will be the home port of Carnival Celebration, an Excel-class ship being constructed in Finland that will debut in 2022 in time for Carnival's 50th birthday. The Celebration (rendering pictured below) will feature an onboard roller coaster as well as 180 suites.
The ceremony (pictured left) was attended by Miami-Dade Mayor Daniella Levine Cava and Carnival President Christine Duffy.
"I'm grateful to Carnival Cruise Line and Lemartec for their partnership with Miami-Dade County," said Mayor Levine Cava. "Despite the global pandemic, today's groundbreaking is another example of the growth happening at PortMiami – The Cruise Capital of the World – and how together, we can and we will continue to thrive."
According to a release, the completion of Terminal F will come full circle for PortMiami and Carvinval: the cruise line's original "fun ship" TSS Mardi Gras department from PortMiami in 1972.
"We are proud of Carnival's role in making Miami the cruise capital of the world, and today marks the continuation of an incredible 50-year partnership with PortMiami and Miami-Dade County," said Duffy in the release. "This expanded terminal built specifically for Carnival Celebration will make an incredible addition to the existing facilities at our largest embarkation port. My most sincere thanks to Mayor Levine Cava and all of the Miami-Dade officials who made this day possible."
Lemartec Corporation is the general contractor for Terminal F, which will feature "a clean and open design."