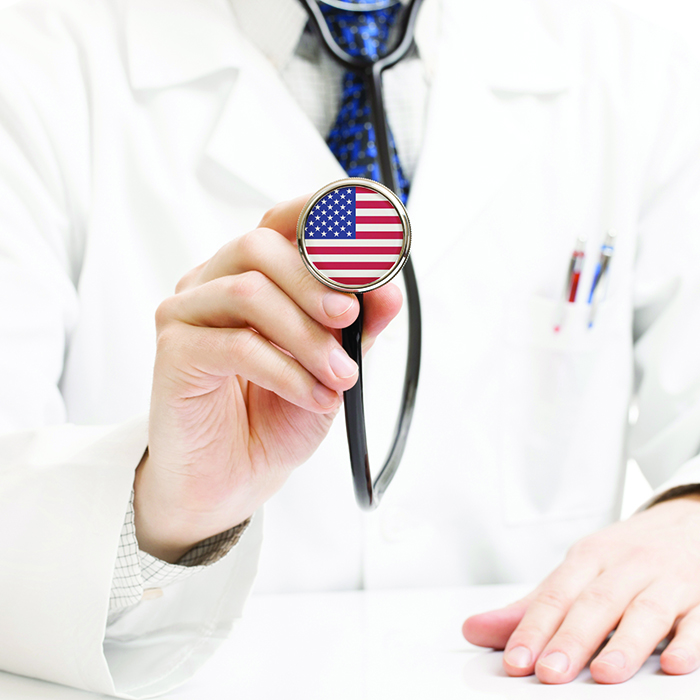 The Big Business of Health Care
SFBW gains insight from the leaders of two of the biggest operators of hospitals in South Florida, Baptist Health's Brian Keeley and Broward Health's Nabil El Sanadi. Both are dealing with wrenching changes in the health care field.
The CEO will see you now
Dr. Nabil El Sanadi combines ER experience with a heavyweight business background
Few hospital CEOs can be found delivering life-saving health care to patients, but a new title isn't keeping Dr. Nabil El Sanadi from occasionally working in the emergency room at Broward Health.
There's precious little time to do so these days since El Sanadi in December was named president and CEO of Broward Health, one of the nation's 10 largest public health systems with 8,500 employees.
El Sanadi combines a business pedigree – Six Sigma Black Belt, licensed health care risk manager and Weatherhead School of Management MBA – with plenty of experience on the front lines of health care. He previously was chief of emergency medicine for Broward Health and at University Hospitals of Cleveland.
"Nobody comes to the emergency department by choice. On their worst day, we have to be on our best," he says. El Sanadi likes being an ER doctor because there's a total focus during a 10 or 12 hour shift on patient care – emotionally, intellectually and physically, he says.
He's leading a system that's undergoing a major transformation.
Broward Health several years ago embarked on a campaign to help consumers understand that it is a health care system. In the past, its major hospitals, Broward General, Imperial Point and the medical centers in North Broward and Coral Springs, had little in the way of common branding.
El Sanadi wants consumers to understand that Broward health is an "unbelievably good health care system from a clinical and safety viewpoint. We've never showcased the unbelievable life saving and life helping processes we have in clinical care."
El Sanadi has an initiative to do safety and satisfaction rounds with department heads in each hospital once a month. There's a focus on patient complaints, satisfaction levels and what he calls near- misses in safety, such as prepping the wrong limb for surgery.
He also wants to highlight Broward Health's role in research and training doctors. Broward Health Medical Center, the flagship location in Fort Lauderdale, is one of seven statutory teaching hospitals in the state. The status means it trains more than 100 resident physicians in at least seven graduate medical programs.
El Sanadi says there's a desperate need for physician training in Florida, which is short 7,000 doctors.
He wants to further build on partnerships with Florida International University and Nova Southeastern University, which recently announced a College of Allopathic Medicine, or MD program, in addition to its existing doctor of osteopathic, or DO, program.
El Sanadi is well connected as a clinical professor at FIU and NSU, but also at the University of Miami. He has a background as a full-time professor in Cleveland – and completed his residency at the Cleveland Clinic Foundation. Last year, he was also chairman of the Florida Board of Medicine.
Broward Health has a very vigorous research infrastructure that El Sanadi says he wants to further buttress. Pediatric, oncology and orthopedic are some of the top programs, but cancer research is probably furthest ahead, he says.
By 2025, one in four Broward residents will be over the age of 65, which is one reason cancer and neurological care need to be top priorities.
At the other end of the spectrum, Broward Health is creating a second pediatric intensive care center in Coral Springs to join the existing Chris Evert Center in Fort Lauderdale.
The district's board in January approved a $56 million expansion of Broward Health Coral Springs from 196 beds to 250 beds. The project will also include construction of private post-partum rooms and a relocation of the neonatal intensive care unit.
El Sanadi says he wants to create friendly and transparent entry points to the health care system, not just from a bricks and mortar standpoint, but from an electronic standpoint with telemedicine and portable electronic records.
Robotic assisted surgery is offering faster recovery and lower infection rates, he says. "Technology is so far ahead of where the clinical practice of medicine is. We just need to catch up."
Broward Health is supported by property taxes in the North Broward Hospital District, so one of El Sanadi's goals is to expand health care operations to lower the millage rate.
One financial question that was unanswered at the time of the interview was whether the state would expand Medicaid coverage. Gov. Rick Scott was suing the federal government over plans to curtail $1.3 billion in funding that helps hospitals pay for uninsured adult patient care.
"Failure is not an option," says El Sanadi, who had been in Tallahassee and making calls to Washington, D.C., about the issue. "We cannot have a lapse of funding and continue to provide the same health care level we have been providing."
Broward Health is the state's second-largest contributor to low-income care at $170 million, while Jackson Health is first statewide at $300 million, he says.
While other health care systems have expanded well out of their traditional boundaries, such as Baptist Health's move north, Broward Health hasn't. El Sanadi isn't ruling that out, saying urgent care outside the district is possible.
"I'm looking for a level playing field for competition. We can't continue to allow competitors in the health care arena to come into our geographic area," El Sanadi says. "We need to stand up our health care system and say we are the best of the best in the product lines we have. We would invite people from Miami-Dade and Palm Beach counties to experience our facilities." ?
Epicenter of change
Brian Keeley leads evolution at Baptist Health
U.S. health care costs are outrageous. Hospitals can be a financial albatross. Florida is crazy to turn down $52 billion in Medicaid funding.
These are just a few blunt thoughts from Brian E. Keeley, president and CEO of Baptist Health South Florida. He's in the epicenter of changes in the health care world, with Baptist operating the largest health care system in South Florida – a $4 billion enterprise with seven hospitals, 50 outpatient centers, 16,000 employees and 2,500 doctors.
At a meeting of the South Florida Chapter of the Association for Financial Professionals, Keeley talked about health care change in general and how Baptist is experiencing rapid growth in outpatient care as it transitions from emphasizing hospitals, which are very expensive "factories" for medical care, to freestanding centers. Still, he says he finds it strange to talk about hospitals as albatrosses.
Baptist has four out of the top 11 hospitals in South Florida, according to U.S. News & World Report. They compare with world-class hospitals.
Baptist is looking to leverage technology, such as the new Apple Watch, he says. Millennials are helping push that by asking why they need to go to a hospital to find out what to do about illness symptoms if they have sensors hooked to an iPhone.
"I'll just email it to my doctor and he'll tell me what to do," typifies their type of attitude, he says.
However, Baptist is investing plenty of money in bricks and mortar. It's building medical plazas in Miami Beach, Coral Gables and Miami's Midtown area. It also is building a $100 million vascular institute and a $500 million cancer center with cutting-edge proton therapy.
Keeley says he's a strong advocate for universal health care.
We are the only advanced country without universal care, he says. "We as the richest country aren't giving health care to all the people who live in the United States? I have a problem with that."
In a way, though, we already have universal care because anyone can show up at an emergency room and get treated, he says.
The cost is shifted to the private sector and government programs, he says: "You are all paying a lot more for people who don't pay for insurance."
Keeley says an estimated 10 million U.S. citizens and 11 million undocumented residents still coming in for treatment even though health care exchanges and Medicaid have expanded coverage by 30 million. He noted there's the good, the bad and the ugly where health care reform is concerned.
The Good
More than 10 million people have gained insurance, pre-existing conditions are covered and everyone is supposed to participate, he says, adding that costs went up 3.5 percent in 2014, the lowest in 50 years. Usually, health care costs rise at three times the rate of inflation.
While the recession and Affordable Care Act have helped that, Keeley says the biggest factor was concern in the health care industry that the government would intervene even more if things weren't fixed.
"I can't defend the health care costs in the United States. They are outrageously expensive," he says.
High deductible insurance plans have helped, too, because consumers have more skin in the game, he says.
The Bad
The Affordable Care Act is so long that no one understands it, he says: "Why didn't you make it 100 pages? Why did you have to put the kitchen sink in there?"
There also have been no changes in the medical malpractice environment, he says.
"Corrosive defensive medicine is the No. 1 driver of health care costs," he says. "Doctors order every test they can think of for self-protection."
The cost of insurance for obstetricians is about $200,000 a year, so most don't have insurance.
Saying medical malpractice attorneys won't like the idea, Keeley advocates a system of medical juries comprising university-salaried medical professionals and retired judges to make decisions. He says it could cut costs in half.
Expanding Medicaid is a good move and Florida is crazy to walk away from $52 billion in funding over 10 years, he says.
The Ugly
South Florida is the nation's Medicare fraud capital, mostly in outpatient and home health, Keeley says. A basic problem is that providers have to be paid in 30 days.
He likes the idea that the perpetrators are being put in jail, but too often the they move on before they are caught.
He'd like to see a company like Blue Cross put in charge of payments.
Another ugly is how medical bills are the No. 1 reason for bankruptcy filings.
Baptist doesn't send people to collection and ends up writing off the majority of the bad debt, he says.
People don't realize when they go to the ER that they could end up in bankruptcy, he says. U.S. per capita health care costs are the highest in the world – 50 percent higher than No. 2 Switzerland and twice the costs in Germany, France, Great Britain and Canada.
"This system is so dysfunctional and screwed up, we've got to do something about it," he says.
Keeley is very concerned about a potential Supreme Court ruling on subsidies for federal exchanges, which were supposed to be established by states. In Florida and about two dozen other states, the federal government started the exchanges.
It's possible that a ruling might end the subsidies in those two dozen states, which means the vast majority of people who got them could drop their insurance, he projects. "This could be like the end of the world for us. Republicans want to get rid of Obamacare, but there is no plan B. My life is one big uncertainty." ?