South Florida is the perfect place to find a local escape. When it comes to finding a quick weekend retreat, there's just something magical about having so many places a drive away, eagerly waiting for you to enjoy a quick staycation.
The Florida Keys are a wonderful place to enjoy a quiet retreat. Yet, while many trek up to beautiful Key West, what if we told you that there are some best-kept secrets on the first key, Key Largo, where you can easily take a time out from bustling and fast-paced South Florida days? Well, that place just might be the Playa Largo Resort & Spa, where visitors can experience a secluded resort full of experiences that stay with you past your visit.
Part of the exclusive Autograph Collection Hotels, expect to be immersed in a tropical paradise and to become one with the ocean and Key Largo's gorgeous sunsets. In celebration of this unique destination, we have compiled the top three reasons why you should consider this upscale resort for your next Florida escape.
A Perfect Location and Relaxing Accommodations
When visiting the Playa Largo Resort & Spa, you can expect comfortable and spacious guest rooms, rooms where you will be inspired to open those curtains and quickly relax on the outside balcony with a glass of wine, coffee, or breakfast. The balconies offer relaxing views of the property and comfortable round outdoor beds with plush pillows that catch the sunset or kick back and escape with a good book.
The resort is the first one to be built in Key Largo in over 21 years and is centrally located on mile marker 97. Coming from central Broward County cities such as Hollywood or Fort Lauderdale, you can expect a drive there to take you no longer than a bit over an hour and a half, making it easily accessible for South Florida residents seeking a tropically relaxing escape in luxury that is not too far from home. It is the 100th addition to the Autograph Collections Hotel brand, and you will experience nothing but the royal treatment once you arrive.
At the hotel, you can have your pick of their 177 upscale guest rooms, or even treat yourself to one of their special 10 two-story bungalows or celebrate a special occasion with a top-notch celebrity-inspired three-bedroom and four-bathroom hidden away Beach House, where you can leave the outside world behind.
Add all these offerings to 24-hour room service, as well as high-end treatments at their Ocean Spa, or even a modern fitness center to squeeze in a quick workout, and you will have every accommodation and offering you need to feel at home, with a luxurious twist. The beach is a quiet 14.5 private paradise, the fire pits offer nightly gatherings next to the sparkling blue waters to watch the sunset, and the two pools are perfect for diving in to escape the heat while enjoying a refreshing cocktail or bottle of champagne.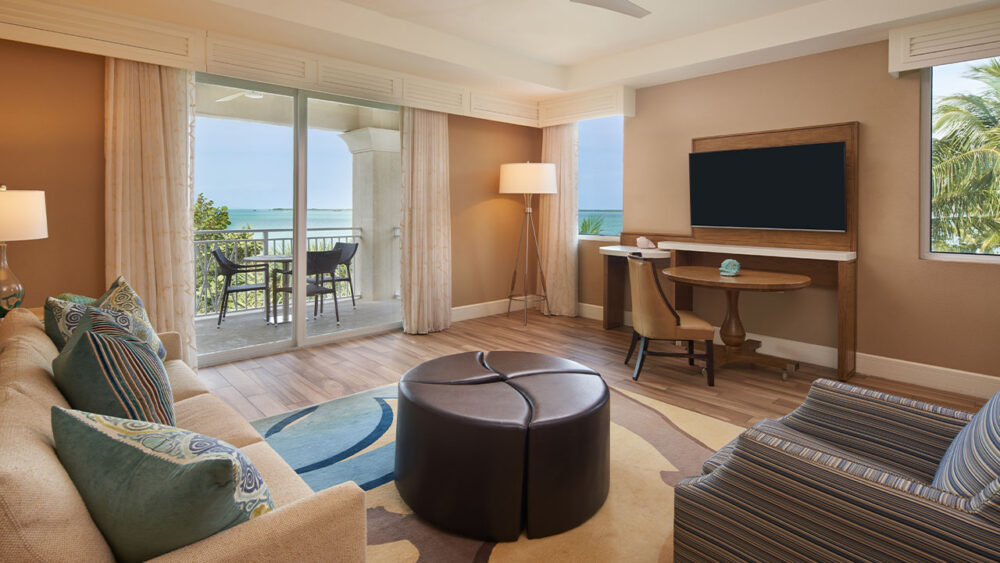 Exclusive Dining Options for All
Foodies are in for a treat at the resort, one that offers all sorts of restaurants that will please every palate, craving and taste.
The most unique experience that you can have at the resort when it comes to dining is one that their outdoor and dockside restaurant, Sol by the Sea, offers. The restaurant, a gem located at a perfect location to watch some of Key Largo's breathtaking ocean views, fresh dishes, and refreshing cocktails, has one of the best dining options for those who adore being connected to the sea. These are the restaurant's Water Tables.
When coming to this unique location, come ready to kick off your sandals and immerse your feet in the water, to get to one of two exclusive white high-chair tables located right in the water. Yes, you read that right…you'll have dinner in the water. A waiter will serve your every need as you enjoy a romantic feast and watch the sunset's peach, orange and pink hue, all while listening to the soothing splashes and waves that are part of the ocean's natural soundtrack. We recommend this dining experience for special occasions, such as birthdays and anniversaries, for a truly unforgettable experience. Dining options include fresh fish, chicken dishes and a variety of appetizers, such as the yummy tuna tacos and nightly specials. Make sure to start your meal with a delicious Mai Tai or a glass of wine, and you will be feeling and leave feeling loved and special.
Other restaurant options include the Mediterranean spot La Marea, where you can indulge on homey dishes such as spaghetti and meatballs and hand-crafted pizzas, as well as Las Olas Ceviche Bar, where you can expect to indulge in classic Peruvian ceviche and amazing cocktails, spirits and wine, making this the only true ceviche spot on the Upper Keys. Add to these offerings a fresh and hearty breakfast at La Marea, which is known for offering guests delicious options for their morning meal before becoming a nighttime spot, and the breezy Sandbar with ocean views, and you'll have everything you need at the resort when it comes to delicious dining.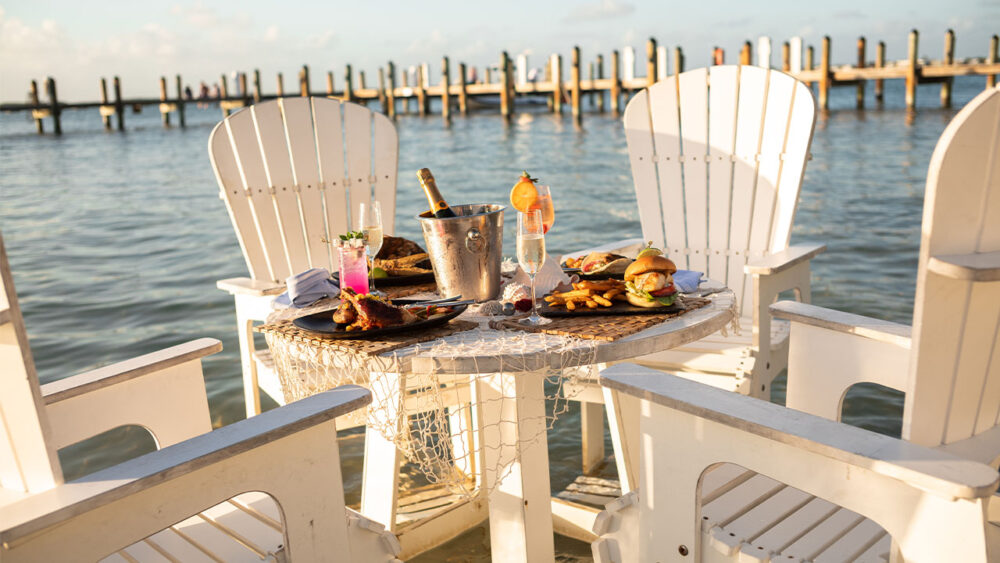 Take a Break and Explore the Area
Key Largo is a place full of wonders, and the Playa Resort and Spa is the perfect location to explore when adventure hits, whether you stay in Key Largo or decide to take a quick ride to adjacent Islamorada.
Playa Largo Resort & Spa is close to many places where you can explore the area, such as the classic and upbeat bar and restaurant with views of the ocean and plenty of chances for dining, dancing and nighttime fun, Hog's Heaven Sports bar & Grill. It's worth a visit for the fun décor and to spend some time with Key Largo's locals.
Another two close-by spots that are perfect for beer lovers are Florida Key's Brewing Company and Islamorada Brewing, where you can sample all sorts of local craft beers with inspired flavors. Make sure to also partake in the rum and spirits tasting at Islamorada Brewing Company, where you can sample the company's unique spirits and even take one home. Oh, and don't forget to take a six-pack as well.
For the book lovers that might've forgotten to pack a read for their vacation or even for those who wish to grab a second book or a few more to bring back home, there's the independent bookstore Sandbar Books. Located right between Key Largo and Islamorada, this quaint spot offers bookish items as well as a wide selection of adult, kids, young adult and tween reads in an intimate, quiet and cozy setting.
Overall, a visit to Key Largo and the Playa Largo Resort & Spa will leave you rejuvenated, refreshed and ready to take on whatever awaits you at home and will have you bringing some of that laid-back feeling that paradise provides back home from your trip.
For more information and to book your escape, visit playalargoresort.com/.