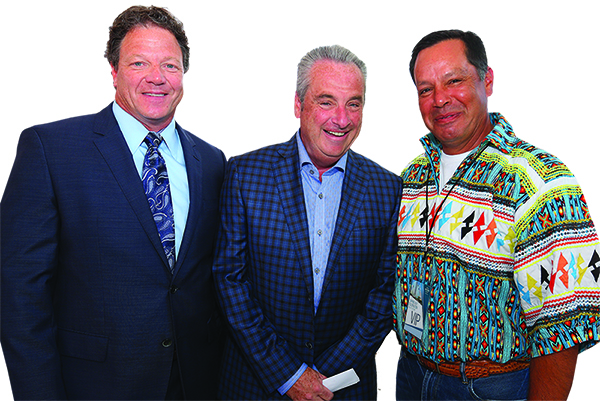 Jim Allen takes the Seminoles, Hard Rock brand to greater heights
There's really no better metaphor for the Seminole Tribe of Florida than what the tribe unveiled this summer when it showed off the framework for its $1.5 billion, 450-foot tall guitar shaped hotel at its Hollywood casino.
It's impressive. It sprung from the ground up. And Jim Allen is behind it.
The Seminole empire keeps growing, thanks to its gambling success in Florida and the brand success of the Hard Rock worldwide. Allen, CEO of Seminole Gaming, led the tribe's purchase of Hard Rock International in 2007 for $965 million, making the Seminoles the first North American Indian Tribe to purchase a major international corporation.
Through its Seminole Hard Rock Entertainment subsidiary, the tribe controls one of the world's most recognized restaurant, hotel and casino brands, with venues in 75 countries, including 182 cafes, 24 hotels and 11 casinos.
"No other brand has the worldwide presence that we have," Allen says. Another 30 hotels are in the pipeline, and 10 to 20 cafes are added annually.
In Hollywood, hundreds of onlookers packed into an outdoor tent to see the hotel framework, with hundreds of construction workers jammed in the back, receiving plaudits from every speaker. As a DJ blasted music, models in construction hats, boots, shorts and close-cropped T-shirts provided more atmosphere.
You can understand why the Seminoles are celebrating this one. The property will add 30 restaurants, lounges and bars, 21,000 square feet of retail space, a 41,000-square-foot spa, a rooftop bar, meeting and convention space, an exhibition hall, and, notably, a new 6,500-seat entertainment venue that the Seminole Hard Rock officials say could host any of those award shows you see on network TV.
It's also a high point for Allen, 58, who started working full-time as a New Jersey pizzeria dishwasher at age 14. His father had died, Allen's high school had block scheduling that cleared afternoons for him, and his family needed the money.
Allen points to that first job when reflecting on the path to his current position.
"I didn't have a lot of options," he says. "But I'm very fortunate. I happen to love work. … I was just a sponge looking for great opportunities."
He was in the right place when the first casinos arrived in Atlantic City in 1978 and 1979, where he started working as a line cook at Bally's Park Place. He moved up in the food and beverage side before joining the Trump Organization in 1985 and becoming part of a corporate senior management team for the three Trump casinos in Atlantic City. He also was part of the team that wrested prime boxing matches from Las Vegas, including the Mike Tyson-Michael Spinks bout at Trump Plaza.
Allen eventually left to work for Sol Kerzner, developing the Mohegan Sun in Connecticut and the Atlantis Resort and Casino on Paradise Island, Nassau, The Bahamas. In 2001 he became the chief executive officer of Seminole Gaming.
"I really wanted to do it 100 percent on my own," he says. "What we've been able to do has been a lot of fun and has allowed me to expand my horizons, and it was the luckiest decision I've ever made in my life."
The biggest moment came when the tribe bought Hard Rock International, paying just under $1 billion and beating out 72 other bidders. That purchase opened the doors for the Seminoles to pursue other business opportunities, such as the NYY Steak restaurant at Coconut Creek. The restaurant is a joint venture between the Seminoles and Major League Baseball's New York Yankees. The original upscale restaurant is next to Yankee Stadium in the Bronx, N.Y.
Allen said the tribal council was able to see opportunity with the Hard Rock investment.
"We looked at what we were paying for the licensing and we felt we could take the brand to a higher level," Allen said.
And the tribe has done a tremendous job in leveraging the brand, analysts say. For example, the Seminoles licensed the Hard Rock brand to the Cherokee Tribe of Oklahoma for its Tulsa hotel-casino, while a Hard Rock Hotel is part of the City of Dreams development in Macau, which is owned by Hong Kong-based Galaxy Entertainment. Other deals, with other tribes and companies in the United States and abroad, are also in the works.
Meanwhile, Allen worked on upgrading a brand that could have fallen into a trap others do after a couple of decades. But he knew the music made things different in this case.
"I felt the company had the opportunity to enhance its management, its philosophies and expand in the hotel and gaming sectors," Allen said. "I think that any company is only as good as its management team. Very respectfully, I felt we could do it better."
Then in 2016, Hard Rock International completed the acquisition of casino and hotel-casino rights in the western U.S., as well as in several key international markets, from affiliates of BREF HR, LLC, which own the Hard Rock Hotel and Casino in Las Vegas. Originally separated from the Hard Rock International's portfolio more than three decades ago, the rights acquired in the deal reunited Hard Rock International's global territory for casinos and hotel-casinos, and positioned the company for unprecedented growth opportunities.
Properties included those in Minnesota and states west of the Mississippi River, as well as in Australia, Brazil, Israel, Venezuela and Vancouver, British Columbia.
Back in Florida, the Seminole casinos in 2017 collected about $2.4 billion in gambling revenues, while also beating back the threats of hotel-resort casinos invading the state. In November, voters will decide whether to mandate that all future gambling expansion require their approval—rather than just the state legislature's—and polling indicates that well more than the necessary 60 percent vote required will glide it through.
And soon the new hotel will help with a constant over-occupancy problem. The hotel has been so slammed with guests from South Florida that it barely can advertise for business, and opens options for more guests from afar.
"We've been sold out since Day One," Allen said. There are 461 existing rooms in a 12-story hotel. The new site will add 638 guest rooms and suites in the guitar-shaped tower, with another 168 in the pool tower, overlooking a private cabana area.
But the attraction is the architecture. Designed to resemble back-to-back guitars, complete with guitar faces, necks and brightly lit strings reaching 450 feet into the sky.
The new hotel is set to open in fall 2019, a little more than 15 years since the Seminole Hard Rock opened on the same property.
Allen said the idea for a guitar-shaped hotel was actually hatched in 2006, during a chat with the Las Vegas architectural firm Klai Juba.
"We started the sentence with 'Wouldn't it be cool if…'" Allen said. "We believe it becomes an attraction to people across the globe." ♦
HARD ROCK HOLLYWOOD
HARD ROCK HOLLYWOOD Features at the new hotel at the Seminole Hard Rock Hotel & Casino include: POOL: A 13.5-acre pool resort will contain three distinct waterfront areas. Options include a beach-style experience created with locally sourced Florida sand set with lounge chairs; a private, tropical lagoon-style setting amidst waterfalls and palms; and a large water expanse that will offer canoeing, paddle boarding and more. An exclusive private lagoon area, reminiscent of a Bora Bora ocean-scape, will be outfitted with bungalow-style cabanas offering personalized service and high-end amenities. A Day Club will complement evening fun with an adults-only, European-style sunbathing and swimming area. DINING: In additional to a high-end steakhouse, fine-dining options will include an Italian-American concept, an upscale Asian eatery featuring twists on traditional Asian dishes and a South and North American solid fuel grill concept, with solid fuel cooking. An open, contemporary buffet will offer guests a selection of five distinctly themed dining genres. A contemporary American Diner/Deli and a coffee shop and bakery.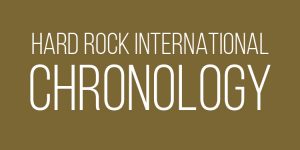 1971 • Americans Isaac Tigrett and Peter Morton start Hard Rock Café in London.
1982 • Hard Rock begins to expand globally, including its first U.S. café.
1983 • Hard Rock expands to Asia with a café in Tokyo.
1990 • Rank Group gains worldwide control of the Hard Rock brand.
1994 • First Hard Rock Live Venue opens in Mexico City.
1999 • Hard Rock Live opens in Orlando with Elton John as a headliner.
2004 • Seminole Hard Rock Hotel and Casino locations open in Hollywood, Florida, and Tampa.
2007 • Hard Rock Café International is sold to the Seminole Tribe of Florida.
2010 • The first all-inclusive Hard Rock Resort opens in Punta Cana, Dominican Republic.
2013 • Hard Rock Hotel Ibiza becomes the first Hard Rock Hotel to open in Europe.
2015 • Hard Rock acquires its 80,000th piece of memorabilia, a 24-karat gold leaf piano played by Elvis Presley.
2016 • Hard Rock International acquires the Hard Rock casino and hotel-casino rights in the western U.S., as well as in several key international markets, which reunites the brand globally; Hard Rock reaches a $250 million, 18-year deal for naming rights of the Miami Dolphins stadium.
2017 • Hard Rock International acquires the former Trump Taj Mahal in Atlantic City and announces a $375 million renovation.
2018 • Hard Rock International Atlantic City opens on June 28; topping off held for new hotel in Hollywood; Hard Rock
moves headquarters from Orlando to South Florida.