For the longest time, PGA National has been synonymous with one of the most devilish three-hole stretches in all of golf—the Bear Trap at The Champion course. Named after the legend who redesigned the layout in 2002—the Golden Bear himself, Jack Nicklaus—the famed 15th, 16th and 17th (a pair of knee-knocking par 3s with a testy par 4 in between, all requiring shots over aquatic hazards) have sent more golf balls to their watery grave than probably any trio of consecutive holes in Florida.
Just ask the pros.
Heading into last February's Honda Classic, the winter PGA Tour stop hosted by PGA National (Honda ended its sponsorship after the 2023 event), the Bear Trap holes had played a combined 4,374 over par since the tournament moved to the Palm Beach Gardens resort in 2007. The best players on the planet had sent a total of 1,686 balls into the water during that time.
While the Bear Trap—and golf in general given the six distinct courses on the property—always will remain a calling card, it's hardly the only thing about PGA National that has people talking these days.
Thanks to a recent $100 million transformation that reimagined its spaces and its offerings, PGA National is generating international travel buzz with familiar faces and first-time visitors as an all-encompassing getaway—and literal buzz thanks to an on-site experience connected to bees.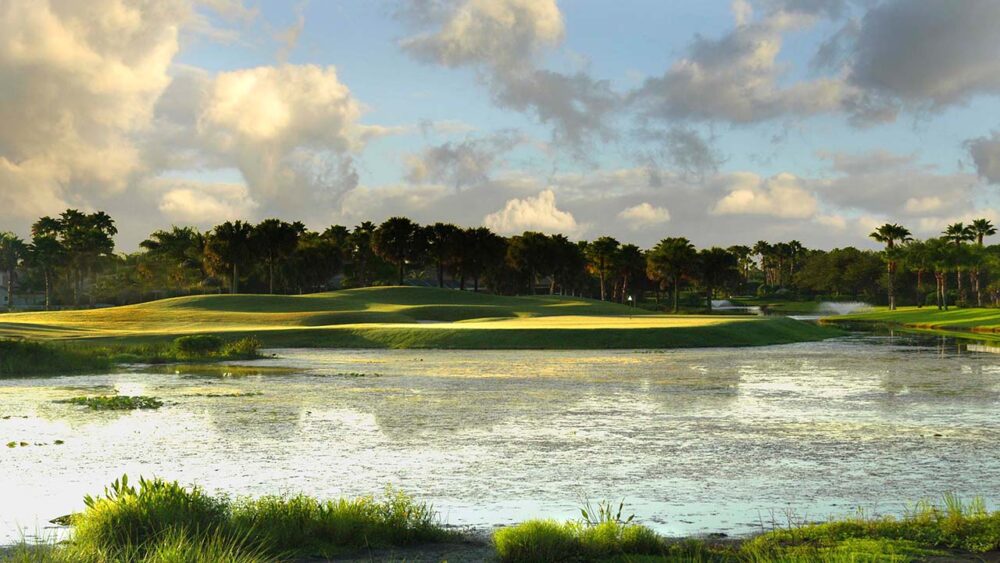 Accommodations: The throwback thread of Palm Beach chic that runs through the 360 guest rooms and private villas manages to modernize with sophisticated custom furnishings and decor while still honoring the past. Think wingback headboards, palm-leaf wallpaper and velvet sofas in guest rooms and suites that overlook the pool, the driving range or the tropical foliage that embraces the property.
The 21 two-bedroom cottages, all spanning 1,200 square feet, are cast in coastal blues and whites courtesy of the refined design aesthetic at Serena & Lily, another of the renovation partnerships at PGA National. Handwoven rattan, lacquered woods and tufted wool further elevate the resort-style vibe in cottages with a fully equipped kitchen, washer/dryer, pull-out sofa bed and outdoor terrace.
Those interested in stays of a month or longer can look into the PGA National Vacation Rental program, which gives travelers access to luxury estates and all the amenities available to resort guests. There's a three-month minimum on high-season rentals.
Amenities: The 1960s-era elegance that permeates the rooms extends into the common areas at PGA National with revisions that, again, manage to walk the design tightrope between fresh and timeless. Two striking oversized chandeliers that recall upside-down palm leaves add to the intrigue in a lobby that dazzles with pocket seating, period furnishings—and a dark marbled bar with a mammoth faux banyan tree at its center, one that brings the space to life with 1,500 LED lights. Happy hour at the lobby bar runs from 4 to 6 p.m. (Sunday through Thursday) with $8 bar bites and $5 drafts.
If golf's not your sport, you can burn calories before cocktail hour at PGA National's Racquet Sports Club. In keeping with the sporting trend of the time, the club has added six new pickleball courts to go with its 18 Har-Tru tennis courts (11 of which light up for evening play).
Meanwhile, the Spa at PGA National—all 40,000 square feet of it—received its own facelift thanks to V Starr, the South Florida design group owned by tennis great Venus Williams. Described as "a resort within the resort," the rejuventation center includes three mineral pools, a hair/nails salon done in pinks and whites, a 1950s-inspired barbershop, an outdoor pool deck, a new couple's treatment room and two new Himalayan salt rooms. There are more than two dozen offerings on the menu, spanning traditional and specialized massages, facials, body scrubs and cutting-edge treatments—like a cryotherapy slimming wrap that detoxifies the skin with layers of chilled seaweed.
While families can kick back at the resort's zero-entry pool with furnished cabanas, there's also the Banyan Buddies kids club that has morning, afternoon, full-day and even evening sessions (including dinner and arts/crafts). Both youngsters and adults will appreciate Big Drip for its frozen treats, and Sugarplume, the resort's new specialty chocolate confection shop.
Foodie scene: Two renowned chefs—one nationally acclaimed, the other a Palm Beach resident and James Beard Award nominee—have set up culinary shop at PGA National. The latter, local favorite Lindsay Autry, infuses seasonal American cuisine with some old-school Southern kitchen flair at Honeybelle. Don't miss the pickle-brined organic half-bird on the dinner menu; it's crispy, flavor-rich fried chicken like you've never had before.
On the fine-dining side, celebrity cook (and Florida native) Jeremy Ford brings his A-game—and then some—at The Butcher's Club. The winner of Top Chef season 13 delivers a steakhouse experience that soars from start to finish. Appetizers such as clams casino (with Benton's hickory-smoked bacon, sofrito and garlic breadcrumbs) and truffle jalapeno poppers set the tone for the chef-driven fare that follows. While wagyu cuts (rib-eye, New York strip, filet mignon) and steaks like the 38-ounce dry-aged porterhouse take center stage for good reason, dishes like the New England scallops (with chowder velouté, Benton's bacon and crispy chicharrones)—not to mention sides like colossal blue crab macaroni and (muenster mornay) cheese—also speak to the kitchen team' prodigious skills.
Birdie's Diner, another retro nod with its Back to the Future design vibe, offers standard and glitzy breakfast fare (banana mudslide pancakes), sandwiches and burgers—and adult milk shakes like the Peanut Gallery (Screwball peanut butter whiskey and chocolate ice cream).
The golf: The Champion may be one of the truest tests of golf in the state, but it still manages to enchant and entertain golfers of all levels with its whipping winds, think-before-you-swing layout and, of course, its history. Not only have the likes of Nicklaus, Seve Ballesteros, Tiger Woods and Rory McIlroy roamed its 7,045 yards, but the course has hosted a Ryder Cup (1983) and the PGA Championship (1987).
That said, it's not the only intriguing layout at PGA National. The Palmer is perfect for weekend players with its more forgiving design; The Fazio features, arguably, the toughest hole at the entire resort, the lengthy par-5 fourth; and The Estate, another beautifully manicured course with open fairways that's five miles west of the resort. There also are two new courses—The Match and The Staple—designed by Andy Staples. The first, as the name suggests, was created with on-course competition in mind; the latter is a nine-hole joyride of all par-3 holes.
Bonus buzz: Part of the resort's transformation involves partnerships and amenities that further el-evate the guest experience. Look no further than its exclusive association with Blade Air Mobility, which allows customers to bypass South Florida traffic and arrive and depart the property in style. Blade One, a 16-passenger commercial-sized jet, travels from New York to Palm Beach International Airport; from there, a Blade helicopter transports visitors to the resort in six minutes (there's a newly constructed helipad next to the tennis courts). Blade also can fly directly from the likes of Miami, Fort Lauderdale and Boca Raton.
Beyond the spa, the pampering continues for men at Groom Guy, the luxury wellness brand that debuted at PGA National in March. Think haircuts, straight-razor shaves (with Art of Shaving products) and additional grooming services.
Another initiative, the Beehive Experience, speaks to the resort's commitment to sustainability. The property is now home to four on-site hives and some 250,000 honeybees. Guests can climb into beekeeping attire and join a professional beekeeper on a guided tour of the hives—one that culminates in honey and food samplings at, where else, Honeybelle.
Contact: 400 Avenue of the Champions, Palm Beach Gardens; pgaresort.com; 800.863.2819