The ever-evolving landscape in South Florida isn't all about high rises and sprawling mixed-use projects. Some of the game-changing advances are happening inside office buildings throughout the tri-county region thanks to Quest Workspaces and its innovative CEO, Laura Kozelouzek.
For the past two decades, spanning two companies, Kozelouzek has been ahead of the curve when it comes to creating shared workspaces that combine chic, design-forward, residential-style aesthetics with a sense of community. Instead of feeling "caged in," clients can find light-filled environments that speak to the emotions they're going through in a business day.
Of course, it's not all about work. In Miami, the Quest team recently designed a "Barbie Dream Office" (opposite page, top right) in time for the hit movie's premiere.
Both your first company [Synergy, which was done in partnership with a real estate group in New York City] and, now, Quest have set trends in coworking spaces. Where does that foresight come from?
The idea of creating spaces with personality was in my personality. My background was in hospitality; I worked in hotels for many years—and I even [co-owned] a restaurant in New York City called Dish [one of the partners was Daisy Fuentes of MTV fame]. From the time I started working in commercial real estate to the time I started Synergy [in the mid-2000s], I was interested in transforming that sterile office experience.
The tagline for Synergy was "work happy." Back then, nobody talked about that. You just worked. The way I approached it was, I can't impact what people do for a living. I can't choose the companies that they work for. But I can create these awesome spaces where people can be really productive, enjoy the connection and have fun doing it.
Today, companies are catching up and talking about all this because they have to—they can't get their workers to come into the office spaces because they're lifeless. The employees don't feel great.
For us, it's part of our DNA. And with Quest, we're taking it to a whole other level.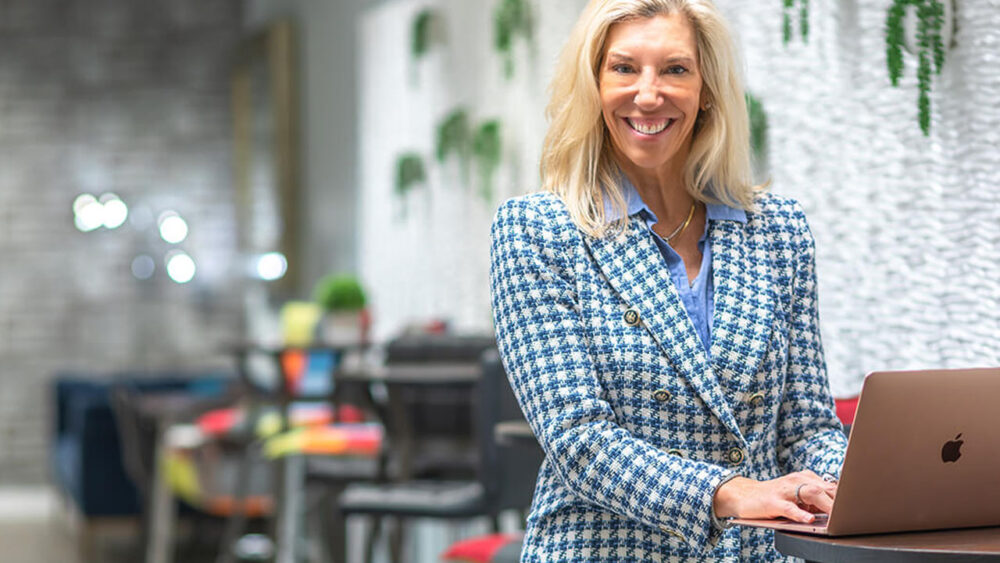 Was part of the allure of launching Quest in 2010 that, this time, it was your venture?
Yes. Even the name is very personal to me. This is my quest. I had gained all this experience over the decades. I didn't care if I had one location, two locations or 100. It didn't matter. I finally had an opportunity where I had no investors, no partners. This was my vision for the best workspace.
The tagline for Quest is "Freedom to work the way you want." That's kind of where we are right now with commercial real estate. No two companies are the same. No two individuals are the same in terms of how they work. People want choice. And they should have choice.
What did those past experiences teach you about yourself that you've infused into Quest?
I'm still learning, especially in an industry like ours that's being so disrupted.
But mostly what I realized was to trust my gut. I'd been through recessions, I'd been through 9/11, and I'd been through other ups and downs. After that much time, you develop a sixth sense. Unfortunately, a lot of groups in our industry have to raise big capital. At that point, you're being driven by the needs of your investors, not by what you think necessarily as an operator. I needed to trust my instincts regarding things like when to expand, when not to expand, which markets to expand in.
The thing I'd learned was that I trust me. I'm willing to bet on myself.
What was it about the Quest approach that allowed it to thrive amid COVID-19, when similar business concepts closed?
We had a triage kind of approach. Each day we spoke to managers from every Quest location on a Zoom call. We talked about the clients that were struggling, that needed help. And we discussed all this together as a group and made decisions. What makes sense for them? What makes sense for us? Our occupancy didn't drop below 87% as a company during COVID, which was unheard of.
Of course, there were challenges. In order to keep our clients, we had to drop rates, we had to give free rent, we had to be flexible—and we did all those things. But at least we kept the relationships, which to me was most important. So, as we came out of it, there was a lot of goodwill, a lot of loyalty. We took that, and we built on it.
It was the same with our landlords. We explained the reality of the situation. We're resilient. And we're going to stay through this with you. But we need help. … It's part of why we're growing so much now. We're going into other locations with the same landlord or we're growing in the buildings that we're already in.
If you're honest and transparent—and you're working together toward a common solution—you can get there.
Why does the vibe inside Quest spaces resonate so much?
I took a lot from my hotel background. You know that impression a hotel can make when you walk into a beautifully designed lobby? You feel the same when you walk into a Quest space [Note: There are 10 Quest locations across Florida, with two Coral Gables locations scheduled by the end of the year.] It's welcoming and comfortable, but there's a level of professionalism and high style. You can sense it's a special place.
Also, we don't have a cookie-cutter approach. Every location we build out, we take into account the local market. Something on Brickell in Miami is very different from the space in Boca Raton. At the end of the day, it has to be a space where someone walks in and says, "Wow, this is beautiful. I love this office, and I want to be here every day."