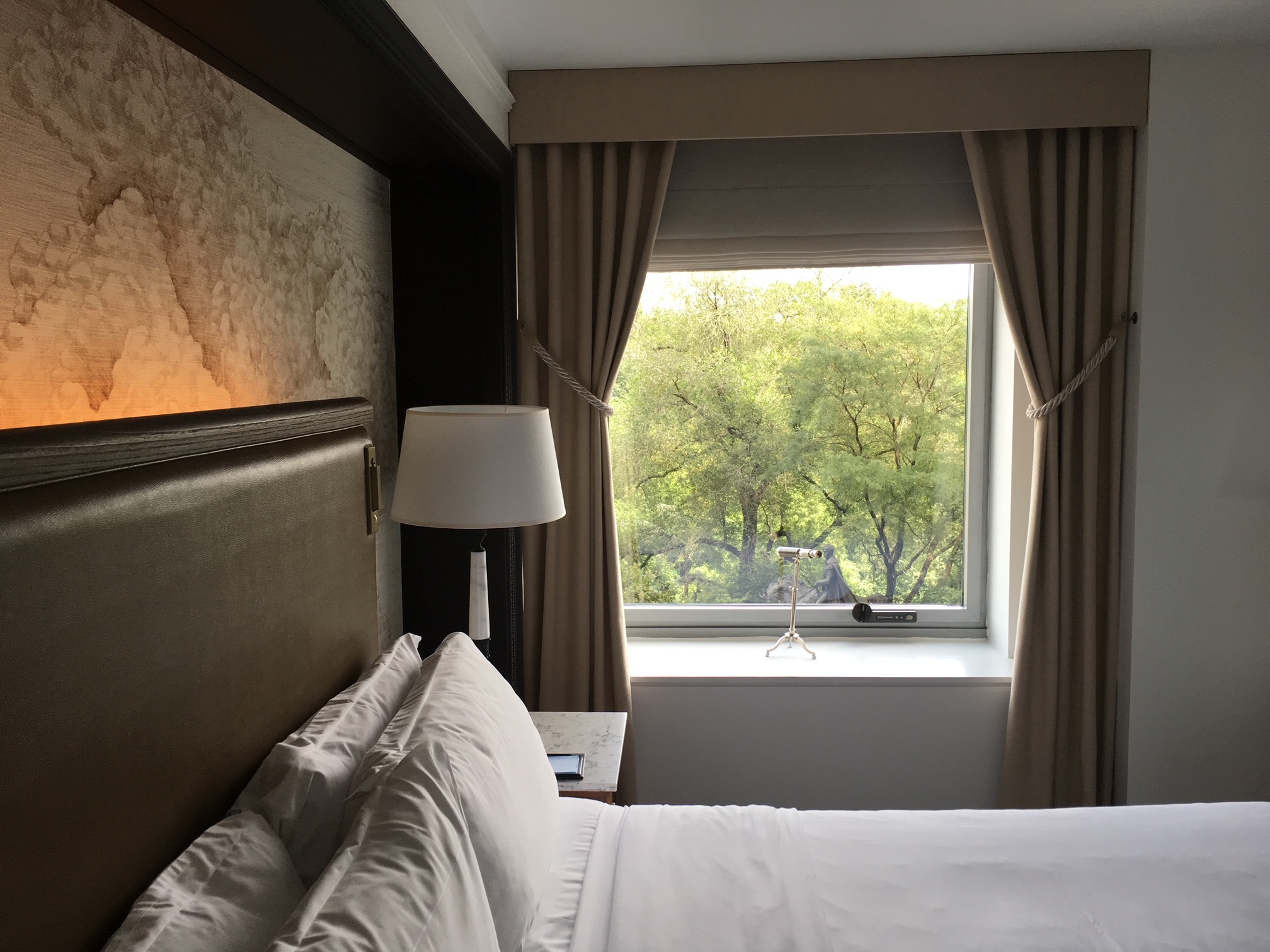 Thursday Travel: Editor's Recommendation—Ritz-Carlton New York, Central Park
The story behind this photo—and why it's time to book now
In a city that boasts some of the world's most lavish hotels (but, seriously, is Ty Warner ever going to reopen his Four Seasons in midtown?), the Ritz-Carlton Central Park stands out for its elegance, refinement and discretion; its prime, leafy location on Central Park South; and for the fact that I once walked in to find Billy Joel sitting at the piano in the lounge playing and singing "New York State of Mind."
Yes, that happened.
I've stayed in this venerated hotel a bunch of times, but it had the bad luck of completing a major facelift right before the pandemic hit, so in the middle of the craziness, with the hotel getting back on its feet, I enlisted my niece Shellie to check it out with me. Our visit involved a Strawberry Field mocktail for her, something too strong for me (yes, I know, I'm a lightweight), an artisanal cheese board (I explained to Shellie what the honeycomb was doing there) and a chocolate Empire State Building. Central Park is right across the street, so we happily rode bikes on its winding trails—which reminds me: With spring around the corner, there's no better time to book the Ritz Carlton and watch everything bloom again—right from your plush bed.
At this point I'm going to turn this article over to Shellie, via the following Q&A:
How was the Ritz-Carlton Central Park experience part of your cultural education?
The Ritz-Carlton Central Park experience altered my view of the city. It opened my eyes to a new part of the city that I'd never experienced before. When I first walked into the Ritz-Carlton, I felt like I was moving through a living work of art. I've grown to become someone who consistently educates myself through books, movies and plays, mostly thanks to my Uncle Drew. (Actually, both my uncles contribute to this endless cultural education.) It's cool to be the only one in class who knows what "facade" means. He also taught me that experiences and places are an education in themselves; hotels are part of that because of their design and architecture. Fine hotels are aesthetic experiences, too. You can have an emotional response to a hotel in the way that you have an emotional response to a good movie. Everything about the hotel design felt purposeful, kind of like certain scenes and decisions in a film. My love for art and storytelling has led me down the path of filmmaking. As a senior in high school, I am currently deciding which film program I am going to enroll in next year as I continue my cultural education.
Did you see something in the hotel that you've never seen before?
In the hotel bathroom there was a crystal ring holder, which was something I've never seen, and it was super cool to put my rings on it when I washed my hands.
What is "The Epic"?
The Epic is a trip that you and I have been planning for us for years now. It's a four-week trip that we also refer to as the French and Italian coastal trip. I've never been to Europe, and we decided there would be no better way to first experience it other than like this. We would start by flying to Paris, spending about five days there. Then, we would take a train to Provence and spend about six days there. Then on to Genoa and the Italian Riviera, then Rome, and finally end the trip by making our way to the Amalfi coast. This trip has been something that has been in the works for years and truly would be the most epic trip ever.
Is your brother Mitchell allowed on The Epic?
I feel like we've debated this for a while but have come to the conclusion that while we swim on the Italian Riviera and the Amalfi Coast we're going to need someone to watch our bags.