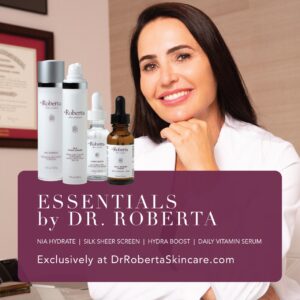 Dr. Roberta Skin Science is the latest line of skin-care products developed by board-certified dermatologist and founder of Del Campo Dermatology & Laser Institute in North Miami, Dr. Roberta Del Campo. Dr. Del Campo (pictured) uses her expertise as a physician to create cutting-edge products that are medical grade, potent and highly effective formulations for all skin types. The products are vegan, cruelty-free, sustainable, and fragrance-free.
Dr Roberta Skin Science currently carries the following products:
Body Renewal Serum (retail price: $135) – first body serum with the potent-but- gentle retinoid
Hydroxypinacolone Retinoate (HPR).
– The triple action formula is enhanced with antioxidant Vitamins C, E, and Ferulic acid ester
and barrier lipids.
– Lightweight and silky, this serum dries to a powdery finish that won't stick to clothing.
BP Clear (retail price: $60) – a lathering crème cleanser that removes dirt, oil, and excess lipids
without over-drying skin.
– Ideal for oily and combination skin types.
– ColorBlend Brightening Pads (retail price: $200.00) – Contains potent skin brighteners plus
antioxidants.
– Ingredients include Kojic acid, Salicylic acid, Vitamin C, Green Tea and Arbutin, making it
among the strongest and most effective treatments available.
ColorBlend Brightening Stick (retail price: $95) – elegant, light-weight fragrance- free,
the preservative-free vehicle is applied with a convenient touch-stick that facilitates a localized solution
application.
– Combines enzyme-activated Arbutin for enhanced brightening; the advanced retinol ester
Hydroxypinacolone Retinoate and Salicylic Acid Ester for gentle exfoliation.
EyeSPNX (retail price: $85) – contains a form of Vitamin C clinically demonstrated to improve
skin appearance.
– The antioxidant cocktail of Vitamins C & E and Green Tea, paired with penetration-enhancing hydroxy acids and Peptides, makes it among the most potent products available.
Glo-wash (retail price: $65) – helps remove dirt and excess lipids without over-drying the skin.
– Contains 10% Glycolic Acid to enhance exfoliation.
– For normal to oily skin types.
HydraBoost (retail price: $95) – a unique hyaluronic acid-based, oil-free gel designed to enhance
skin moisture and improve the appearance of fine lines and wrinkles.
– Can be applied under make-up, sunscreen or moisturizer and is appropriate for all skin
types.
– Neck Nectar (retail price: $130.00) – a true re-texturizing balm formulated for the delicate neck
area.
– It is fortified with anti-oxidants and peptides to improve the appearance of skin tone and
texture. Fortified with Growth Factor Kinetin.
NiaHydrate (retail price: $95) – the combination of Niacinamide with barrier-enhancing lipids in an
elegant emollient lotion.
– Niacinamide, a form of vitamin B3, has been shown to improve the appearance of fine
lines and wrinkles.
– Contains a combination of ceramide, fatty acid and cholesterol to help enhance the skin's
natural barrier.
Resilience Serum (retail price: $100) – retinol is a form of Vitamin A, a time-tested ingredient
which improves the appearance of fine lines (in around 4 weeks), wrinkles (in around 12 weeks),
skin texture and smoothness.
– Appropriate for all skin types except for sensitive skin.
Revitalize Pads (retail price: $70) – a perfectly balanced combination of Mandelic Acid with
Niacinamide.
– The convenient pad applicator delivers an elegant alcohol-free, water-based solution.
– For exfoliating pigmented and more sensitive skin types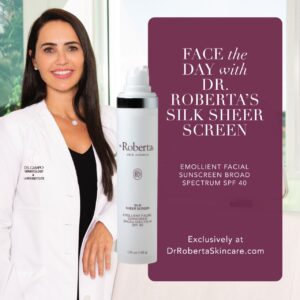 All of Dr. Roberta's Skin Science products are available at drrobertaskincare.com. The Del Campo Dermatology & Laser Institute clinic offers in-office skin treatments at 1801 NE 123rd St. #312 in North Miami. For more information, call 305-705-6675.