EyeCarry, a Fort Lauderdale-based company founded by F. Thomas Godart that provides eyeglass case products, has been selected for Qurate Retail Group's Small Business Spotlight. The initiative helps strengthen diverse small businesses through increased exposure and other pro bono in-kind services. The program was launched in 2020 as part of Qurate Retail Group's longstanding foundation of supporting small businesses and increasing opportunities for underrepresented groups. Qurate Retail Group includes QVC, HSN, Zulily and several other brands. It will provide its production resources, television broadcasts and digital platforms to help EyeCarry share its story with millions of consumers nationwide. 
EyeCarry's story began appearing on QVC's and HSN's websites and social pages in June, and the company will be highlighted on air at 1 p.m. and 7 p.m. on QVC and 2:55 p.m. and 8:55 p.m. EST on HSN on June 20. EyeCarry will also debut its products through online retailer Zulily for the first time. 
"We're honored to be featured by QVC, HSN and Zulily, among other brands in representation of Pride Month," F. Thomas Godart says, inventor and founder of EyeCarry. "Creating awareness in the LGBTQ+ community is something we practice every day and this is an opportunity to take it a step further."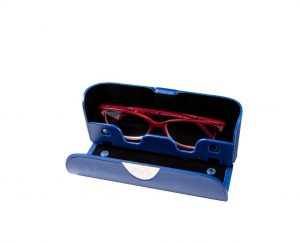 EyeCarry is an eyeglass case designed never to leave your side. The brand was founded to solve one man's quest to stop losing his own glasses. While working for his boating company, Godart could never find a convenient and safe way to store his eyeglasses—so he decided to create his own solution and EyeCarry was born. Its open-face design has a specialty clip engineered to grasp tightly to nearly every belt or strap. With the EyeCarry case, users will no longer need to hang their glasses on their shirts, place them on their heads, or toss them into a bag without protection. EyeCarry's mission is to significantly reduce the amount of broken, scratched and lost glasses nationwide. 
"Our 2022 Small Business Spotlight shares the extraordinary stories of diverse entrepreneurs as they inspire and support their customers and communities," Suzanne Quigley says, Director of Global Corporate Responsibility at Qurate Retail Group. "We're proud to be part of their success by introducing these small businesses to our national audiences across our retail platforms."
The current chapter of the Small Business Spotlight runs through June and highlights LGBTQ+-owned businesses celebrating Pride Month. Throughout 2022, QVC US, HSN and Zulily will also be promoting selected small businesses during Black History Month, Women's History Month, Asian American and Pacific Islander Heritage Month and National Military Appreciation Month, National Hispanic Heritage Month and National Disability Employment Awareness Month.
For additional information on EyeCarry, contact F. Thomas Godart at info@eyecarry.com or tom@godartflorida.com or visit www.eyecarry.com. To learn more about Qurate Retail Group's Small Business Spotlight, search 'Spotlight' on QVC.com and HSN.com. To shop for this month's featured event on Zulily, click here. 
Applications for the program are open on a rolling basis throughout 2022. More details on eligibility and criteria, as well as the application link through RangeMe (a leading product discovery and sourcing platform for retailers and suppliers), are available at https://www.rangeme.com/quratesmallbusinessspotlight.