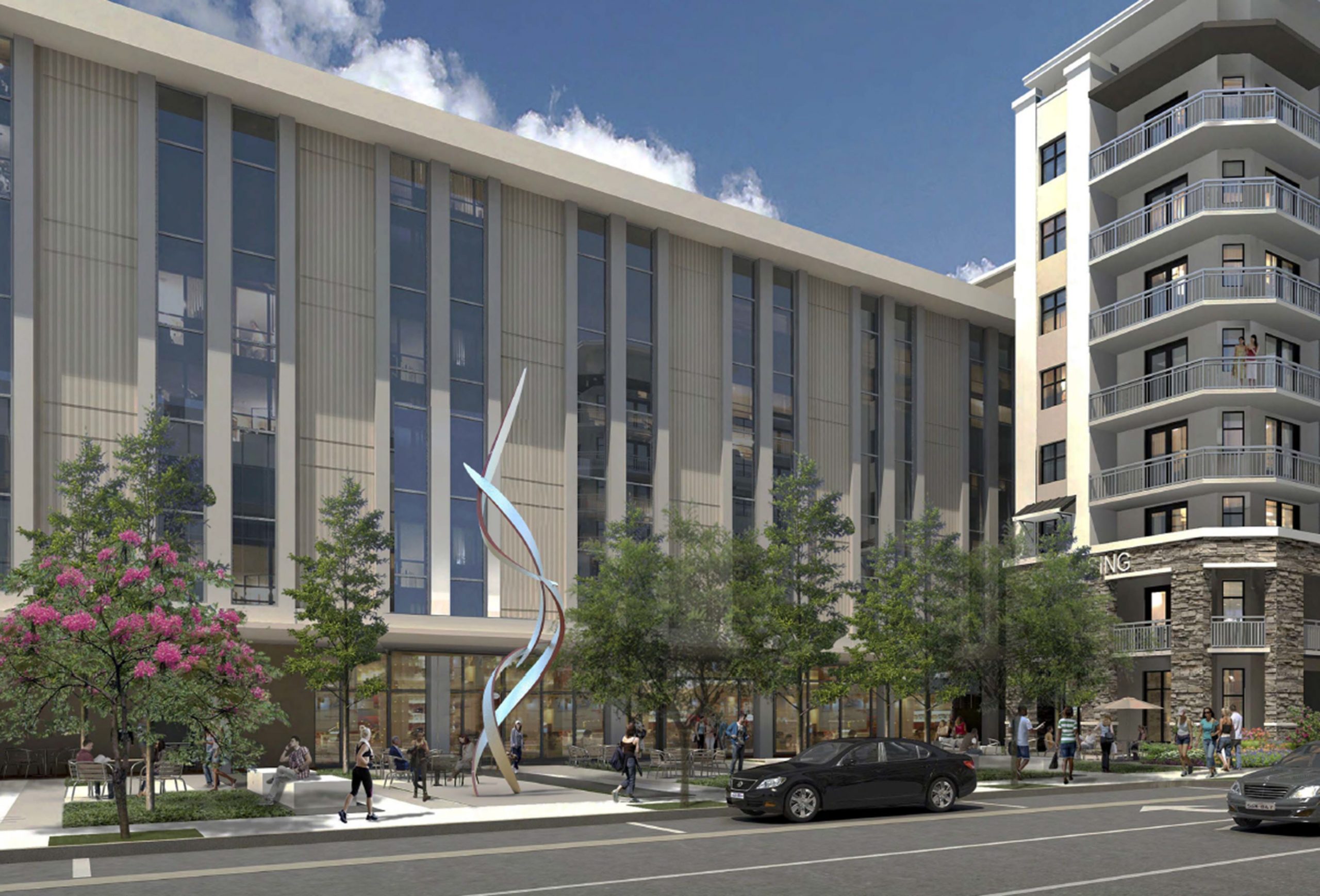 Grover Corlew Commissions Public Artwork in Pompano Beach
The display will be installed in the public pedestrian plaza at Mayla Pompano Residences
Grover Corlew, a real estate investment management group, plans to create a public art installation on the pedestrian plaza at Mayla Pompano. The two-building, Class A 355-unit multifamily residences are currently under construction two blocks east of U.S. 1 at Atlantic Boulevard.
The 28-foot bronze and stainless-steel sculpture titled "Gather" will be the centerpiece of the pedestrian walkway for the mixed-use development that also includes the adjacent 2335 and 2401 Atlantic office buildings along Atlantic Boulevard. The sculpture, made of bronze and stainless steel, is being created by San Francisco-based artist Michael Szabo, known worldwide for creating large and integrated sculptures that speak to their environments. His expressive sculptures are meant to prompt conversations between the works, the physical spaces where they reside and the humans they engage with. Szabo also created the bronze and stainless-steel infinity symbol sculpture at the north entrance to the Pompano Beach Cultural Center.
"Mayla's name was derived from the Hindi word 'mela,' which means a gathering of people, so I love that this sculpture is aptly named 'Gather,'" Anuj Grover says, a Partner Grover Corlew. "This signature sculpture reflects our vision for Mayla Residences, expressing the synergy that arises from a well-planned community."
The sculpture will stand 28 feet high and eight feet wide, in front of NE 24th Avenue, at the center of the 6,932-square-foot public pedestrian plaza. The 1,600-pound "Gather" will be visible from Atlantic Boulevard.
"'Gather' is a sculptural tribute to the age-old purpose of a plaza as a place for communities to meet and celebrate togetherness and solidarity," Szabo says. "The twisting crescent forms that make up the sculpture emerge directly from the plaza hardscape, working together to climb towards the sky in a seemingly precarious yet graceful act of balance. The result is a powerful sense of orchestrated motion and growth, symbolizing a community of diverse individuals working together to achieve a common goal."
Set for completion in July 2023, Mayla Pompano will offer studio to three-bedroom open floorplans spanning 548 to 1,383 square feet and will include workplace housing. The project also includes renovating 60,000 sq. ft. of office and ground-floor retail space in the adjacent 2335 and 2401 Atlantic buildings.
Residents of Mayla Pompano will have exclusive access to a two-story clubroom; co-workspaces, a TV lounge; a 24/7state-of-the-art fitness center and a yoga-aerobics room. The property will also feature resort-style pools with cabanas; outdoor kitchens with seating at both buildings; a pedestrian bridge between buildings; a dog spa; bicycle storage and repair station; ample garage parking; storage cages; and internal mailrooms and package rooms.
"As we transform this area of Pompano Beach into a more vibrant and pedestrian-friendly neighborhood, this new sculpture will lend beauty, visual interest and creative flare to this stretch of Atlantic Boulevard," Mark Corlew says, a partner at Grover Corlew.