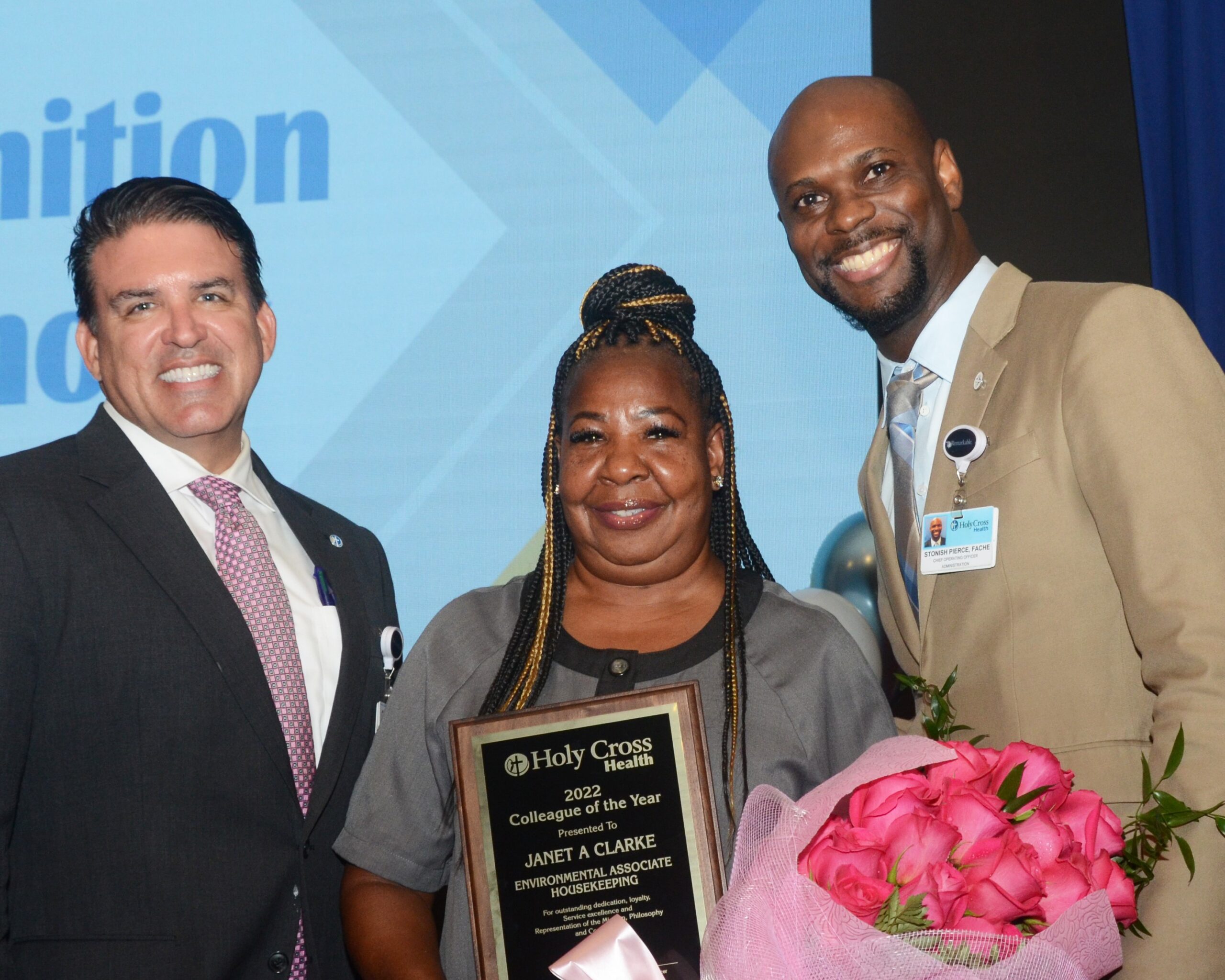 Holy Cross Health Bestows Employees With Annual Awards
The facility named its Colleague and Director of the Year
To recognize the valuable contributions employees provide, Holy Cross Health named Pam Considine as Director of the Year and Janet Clarke as the Colleague of the Year.
Considine began working at Holy Cross Health in 2008 and oversees critical care, the nursing office, transportation, the First Choice program and case management as the Director of Nursing Administration. She earned the honor for her leadership skills, embracing new responsibilities, and offering innovative and thoughtful insights while serving as an inspiration and mentor to colleagues. Considine also serves as a legacy leader and engaged facilitator in the Legacy Leader Program, where leaders carry out the legacy of the Sisters of Mercy, founders of Holy Cross. Program leaders integrate the hospital's mission and core values with the mindfulness of what it means to be part of a Catholic healthcare ministry. When a request through the church arises, Considine is typically the first to volunteer to spearhead the movement.
Clarke joined the Holy Cross team in 2015. Her responsibilities include maintaining a clean and sanitary environment within the healthcare facility. During a recent Joint Commission inspection, Clarke was asked how environmental services are performed. She thoroughly answered the questions by providing a lesson on completing tasks, which impressed the group and left a lasting impression. She emphasizes teamwork and is always willing to perform above her expected duties. Often characterized by her selflessness, Clarke seeks to collect contributions for her church to help those in need.
Holy Cross Health is a full-service, nonprofit Catholic teaching hospital operating in the spirit of the Sisters of Mercy. To learn more about Holy Cross Health, visit holy-cross.com. The 557-bed hospital offers progressive inpatient, outpatient and community outreach services and clinical research trials.
Main Photo Cutline: Mark Doyle Holy Cross Health president and CEO; 2022 Holy Cross Colleague of the Year Janet Clarke, environmental associate. housekeeping; Stonish Pierce Holy Cross Health Chief Operating Officer Holy Cross Health Names Director and Colleague of the Year