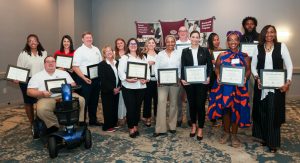 Applications are now being accepted for the Jim Moran Institute for Global Entrepreneurship program, part of the Florida State University College of Business. The application deadline is Friday, Sept. 30 for its Spring 2023 Small Business Executive Program (SBEP) and Nonprofit Executive Program (NPEP) held in South Florida.
The SBEP is crafted for CEOs, entrepreneurs, business owners and presidents of small businesses, while the NPEP caters to executive directors, presidents and CEOs of nonprofit organizations. Graduates emerge with the skills and training to help leverage strategic advantages, capitalize on business opportunities and implement best practice management. 
"Our unique programs give these leaders real-world examples and tactics they can use to take their organizations to the next level," Jennifer Kovach says, director of the Jim Moran Institute's South Florida Operations. "There is a great deal that small business and nonprofit leaders can learn from one another and we enjoy connecting and collaborating with these groups each session." 
The Executive Programs consist of nine sessions, each focusing on a specific aspect of growing and managing a business or nonprofit. Starting in January and running through May, the sessions are held once every two weeks from 8:30 a.m. to 2 p.m. 
Applicants must be actively running their organization and be the key decision-maker. Their company must have been established for at least three years and have three or more employees (or volunteers for nonprofits). The program will be held at the Jim Moran Institute's office in Broward County. 
Program graduates receive a certificate and have the opportunity to be a part of an ongoing peer roundtable. They are also encouraged to participate in workshops, conferences and other Jim Moran Institute events. Since 2009, the South Florida team has guided and graduated 41 classes through its executive programs.
To apply for the Spring 2023 SBEP and NPEP programs, visit jimmoraninstitute.fsu.edu/programs. For more information or to learn more about the Jim Moran Institute's South Florida programs, email southflorida@jimmoraninstitute.fsu.edu, call 954-546-2735 or visit jimmoraninstitute.fsu.edu.