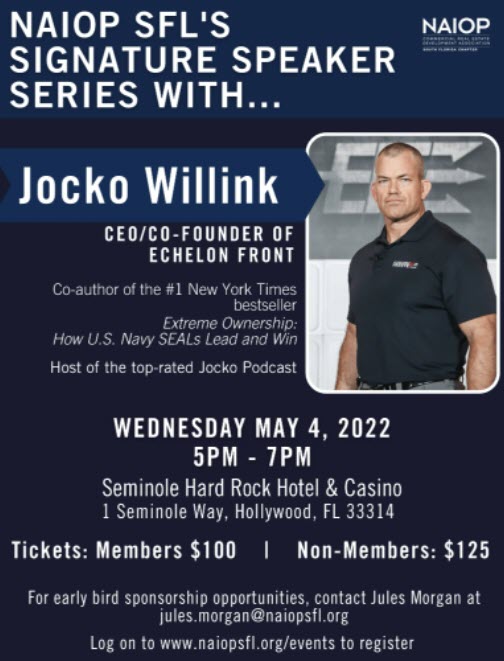 Jocko Willink to Discuss Business Leadership at NAIOP South Florida's Signature Speaker Series
Willink is a bestselling author and former Navy SEAL
NAIOP South Florida's Signature Speaker Series event will be headlined by Jocko Willink, the CEO of Echelon Front, a leadership organization focused on coaching and achieving organizational victory. The retired U.S Navy SEAL is the co-author of Extreme Ownership: How U.S. Navy SEALS Lead and Win and hosts the top-rated Jacko Podcast. He served in the military for 20 years and led SEAL Team 3, Task Unit Bruiser, the most highly decorated U.S. special operations unit of the Iraq War and was the officer-in-charge of training for all West Coast SEAL Teams. In this position, he developed his own leadership training method, personally instructing and mentoring the next generation of SEAL leaders. Jocko is the recipient of the Silver Star, the Bronze Star and numerous other personal and unit awards.
Today, Jocko teaches the leadership principles learned on the battlefield to help others lead and win in business and personal pursuits. Jocko has also authored the New York Times bestseller Discipline Equals Freedom: Field Manual and the children's book series Way of the Warrior Kid.
Jocko uses the lessons learned in combat to help entrepreneurs, investors, commercial real estate professionals and business executives develop the actions and mindsets necessary to accomplish business objectives, including strategy, execution, safety and risk mitigation, mission planning, innovation, team building, crisis management strategies and cultural transformation.
The NAIOP South Florida's annual Signature Speaker Series event will be held at 5 p.m. on May 4 at Seminole Hard Rock Hotel & Casino in Hollywood. The speakers are chosen for their diverse backgrounds and perspectives to provide valuable information, insight and actionable intelligence to members. Previous speakers include Forbes Media Chairman Steve Forbes, leading urbanist and author Richard Florida, and Wall Street financier and White House Communications Director Anthony Scaramucci.
Sponsors of NAIOP South Florida's Signature Speaker Series featuring Jocko Willink include Avison Young, Brody & Associates, Cushman & Wakefield, Grover Corlew, Itasca Construction Associates, Inc., Marcus & Millichap and Risk Strategies Company.
Tickets for the Signature Speaker Series are $100 for NAIOP members and $125 for nonmembers. Seating is limited and tickets are available at https://www.naiopsfl.org/Events. For more information, call 954-990-5116 or email naiop.info@naiopsfl.org.