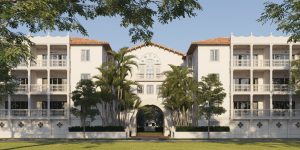 MG Developer, a real estate developer based in Miami, recently secured an $11 million loan by Knighthead Funding, LLC to acquire a 111,026 square foot parcel at 535 Santander Avenue in Coral Gables.
"We are proud to be MG Developer's lending partner to purchase this unique parcel and are looking forward to seeing how this project further elevates Coral Gables," Brian Sullivan says, Vice President of Knighthead Funding, LLC.
The funding will be used to build Gables Village, a 48-unit Seville-inspired residential community that will pay homage to George Merrick's legacy and history. It will feature shaded tree-lined streets, plazas, parks and fountains.
"We are truly grateful to partner with Knighthead Funding for trusting in our vision and providing the loan to acquire the property where the neighborhood of Gables Village will be built and will further enhance the beautiful city we live in, while honoring George Merrick's legacy," Alirio Torrealba says, CEO of MG Developer. "We have no doubt we will make our partners, residents, and neighbors proud of this new enclave."
Currently in the planning stages, the project is expected to be completed in 2024. The village will consist of duplexes, townhouses, and condominiums over 17 lots, featuring one-bedroom apartments to four-bedroom townhomes ranging from 1,750 square feet to 3,100 square feet
Previous acquisitions MG Developer spearheaded in Miami include the existing Biltmore Square, a luxury village development in Coral Gables.