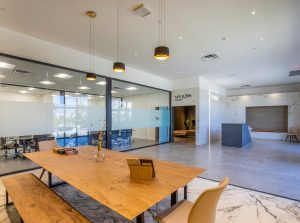 Neolith is set to open a regional showroom and offices in Prologis Seneca Park at 2500 Commerce Center Way in Pembroke Park. The new 29,000-square feet building will showcase durable Sintered Stone materials used for luxury countertops, bathroom vanities and paneling. Neolith's aesthetic stone products are created from natural minerals shaped together at high pressures and temperatures to eliminate porosity. Like the stone, Neolith's sleek new showroom is inspired by the enduring, earthy and sophisticated feel of Neolith's stunning stone pieces. Excel Construction of Florida, an industrial and commercial construction company servicing the southeastern U.S., managed the construction of the high-end showroom for Neolith.
"Transforming an industrial warehouse into a world-class design showroom isn't something that you see every day in industrial and commercial construction," Eric Wolf says, president of Excel Construction of Florida. "Projects like this one are always exciting and challenging, but we were able to rely on our extensive experience in creating high-end, award-winning beautiful showrooms."
The property features 2,700 square feet of office and retail space and 26,000 square feet of warehouse space. The display area is brightly lit with a warm and modern ambiance, designed with splashes of yellow, glass-front conference rooms, modern client meeting booths, wood conference tables and stunning finishes from floor to ceiling. Excel was also responsible for coordinating the installation of a gantry crane to help expertly lift and move weighty stone slabs.
"Neolith's stone solutions create exceptional spaces, so the showroom was designed to reflect that vision," Wolf says. "We were thrilled that they chose Excel to bring the essence of the company's extraordinary experiences to life, using our craftmanship to showcase their amazing luxury stone line."
The new Neolith showroom is the second state-of-the-art design showroom buildout recently completed by Excel Construction of Florida. In 2021, the Denver-based Stone Collection Marble of the World headquarters in Pompano Beach was completed by Excel Construction of Florida. The contemporary showroom was awarded an ABC Excellence in Construction Eagle Award for its sophisticated construction, complexity and overall success.
Photos courtesy of Excel Construction of Florida