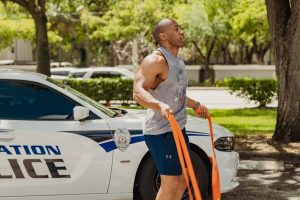 OutFit recently provided 100 free memberships to local Municipal First Responders in Broward County. The giveaway was intended to give back to the community it serves with fire, police, EMTs and their immediate family members receiving free Unlimited Family Memberships. The local municipalities included the Plantation Fire Department, Plantation Police Department, Coral Springs Fire Department, Florida Fish and Wildlife Conservation Commission, U.S. Customs and Border Protection and the Davie Police Department. Municipal First Responders who wish to sign up can verify through ID.me in their profile in the OutFit Training App to start using their free Unlimited Family Membership.
"As a first responder, I would have never imagined my service would be recognized with a cost-free fitness membership, yet OutFit does just that," Kingman Schuldt says, a former Fire Chief and OutFit member. "OutFit's commitment to first responders is just another reason to give them a try."
OutFit delivers large, circuit-style classes conveniently located in open public spaces coined "training grounds." The courses blend strength, cardio, flexibility and fun. An expertly trained fitness coach leads each class, named an "OutFitter in Charge," who arrives in an on-demand fitness van equipped with TRX® training gear with a sound and light system.
"OutFit's paying members allow us to give back to the community by offering free Unlimited Family Memberships to all active duty municipal First Responders and their families," Randy Hetrick says, Founder of OutFit. "Thank you to all of our members for helping us do something great for those men and women in uniform who make sacrifices every day to keep us safe!"
With several classes, Outfit workouts are unique, with participants never repeating the same course. OutFit's varied styles include a broad range of High-Intensity Interval Training (HIIT) workouts – complemented by Power Yoga Flows and Zumba® as active recovery and low-impact cardio options.
OutFit's HIIT classes employ a wide variety of TRX® functional training equipment such as Suspension Trainers®, kettlebells, strength bands & Bandits®, Power Bags, Rip Trainers®, jump ropes, agility ladders, and more. Typical classes also include a range of calisthenics, agility movements, and stretches to challenge members appropriately at all skill levels and make exercise fun. OutFit is accessible to people of all ages, abilities and fitness levels. The company also offers private training in personal spaces, homes or any place of choice with its premium-level concierge service. All workouts are booked through the OutFit app that can be downloaded free from the Apple Store or Google Play.
Hetrick, a career Navy SEAL and Founder of TRX®, launched the pilot program in West Broward in 2021 during the COVID-19 pandemic when many of the fitness industry's most seasoned trainers and innovators found themselves out of work and gyms closed everywhere. Hetrick brought together a seasoned team of veteran fitness industry executives to form OutFit.
All OutFit members receive their first class free simply by downloading the app and opening a profile. OutFit also offers its members a loyalty program with limited-edition branded swag and promotions, which are earned as rewards to encourage regular class attendance.