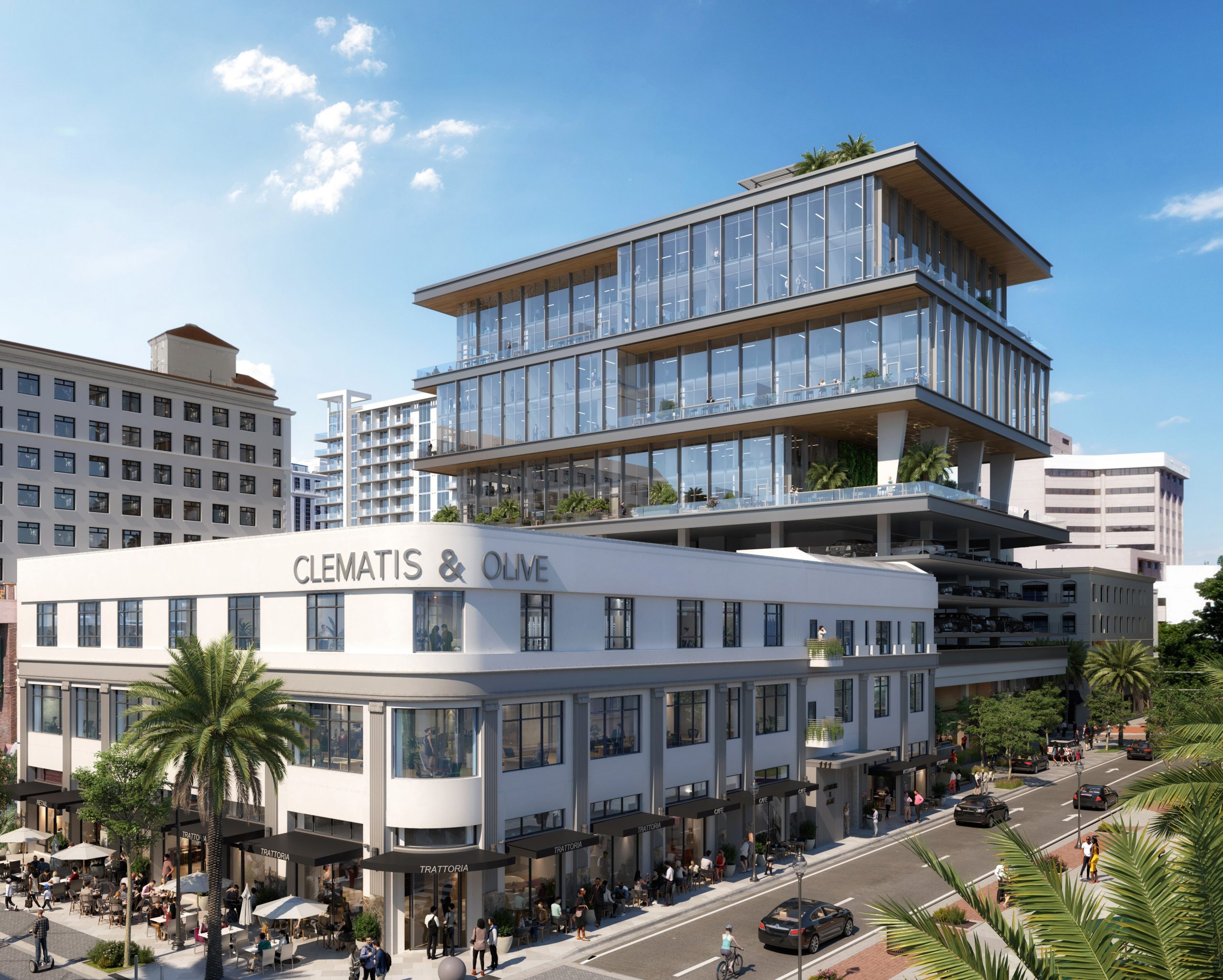 Plans Unveiled for Two Mixed-Use Buildings in West Palm Beach
Brand Atlantic And Wheelock Street Capital will develop the project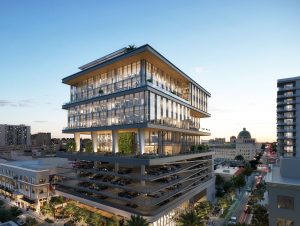 In partnership with Wheelock Street Capital, Brand Atlantic Real Estate Partners released plans for two mixed-use commercial buildings at 111 Olive Ave and 300 Banyan Blvd in downtown West Palm Beach. The projects, 111 Olive and 300 Banyan, are vertically integrated commercial communities designed and branded to become a destination that attracts high-end retail and sophisticated office tenants.
The properties will feature 142,000 square feet of Class A office, 18,000 square feet of ground-floor restaurant and retail and a 300-space parking garage. The project signifies the first new-construction Class A office space in the Clematis Waterfront District in decades.
"We've witnessed first-hand the high demand for Class A office space in South Florida and continuous migration of investment managers and their families to the area over the past year," Adam Demark says, Managing Partner at Brand Atlantic. "With recent announcements from finance firms including Goldman Sachs, Blackstone, Elliot Management, and more to make a substantial commitment in South Florida, we are very encouraged that this development will be delivering the right product at the right time."
300 Banyan will be a twelve-story tower that will include a signature loggia featuring a 2,500-square-foot indoor/outdoor fitness center outfitted with expert-grade equipment and programming. It will feature a 1,500-square-foot open-air lounge framed by reflecting pools and greenery; and an expansive terrace boasting water views, a bar, seating groups and lush landscaping. Office floors will feature floor-to-ceiling glass, intercoastal and Atlantic Ocean water views, wide column-free spans, and over 15,000 square feet of shaded private terraces. Public art installations will be featured on the building's outdoor plaza and office lobby. The facility includes a chef-driven restaurant and bar at street level with a 4,200-square-foot outdoor dining terrace and lounge and a sidewalk café directly accessible from the office lobby.
The project at 111 Olive will feature a complete renovation and modernization of its interior, exterior and building systems. The building will include 27,000 square feet of boutique office space, featuring 14-foot floor-to-ceiling heights, original Florida-Dade Pine finishes, and 15,000 square feet of elevated food and beverage.
"The Olive & Banyan mixed-use development is a high-profile project with a strong sponsor/developer in Brand Atlantic," said Hunter Jones, Principal at Wheelock Street Capital. "We're pleased to play a role in bringing it to market with our new partners."
The project will be delivered in two phases: 111 Olive is scheduled for delivery and occupancy in the fourth quarter of 2022; 300 Banyan is scheduled for delivery and occupancy in the fourth quarter of 2023. Pre-leasing efforts for both phases will commence in the second quarter of 2022. Tenants will have access to the 300 parking spaces in the six-story garage, including ten electric vehicle charging stations and an on-site car wash service.
"With the waterfront and all of the convenience and energy of Clematis Street, we can't think of a better address for office tenants considering Class A space in West Palm Beach," Andrew Dance says, Managing Partner at Brand Atlantic.