El Vecino, which translates to "the neighbor," officially opened its doors at Miami Worldcenter. The opening marks the third establishment by Miami's Michelin-recognized Ariete Hospitality Group (AHG), with previous openings including Ariete, Brasserie Laurel and Chug's Express. Chef Michael Beltran owns and operates AHG, a Miami-based restaurant hospitality group known for its exceptional dining experiences and expertly crafted cocktails.
"The concept for El Vecino has been percolating for some time," he says.
According to Beltran, the idea of expanding AHG into a diverse portfolio of restaurants and bars was a gradual process, starting from its roots in the Michelin-starred Ariete in Coconut Grove and expanding to multiple locations across downtown Miami and Miami Beach. With a few more concepts planned for 2023 and beyond, AHG has become one of Miami's most successful restaurant hospitality groups.
Located at 698 NE 1st Ave., Suite G-172A, at the base of Miami Worldcenter's Caoba residential tower and right next door to Brasserie Laurel, this upscale cigar bar is perfect for both cigar devotees and neophytes, as well as cocktail enthusiasts and downtown residents. The restaurant offers a comfortable ambiance in the 1,600-square-foot space, which boasts vintage décor, rich woods, velvet, and leather set against the warm glow of amber-hued lighting. El Vecino also features a state-of-the-art air purification and humidification system.
"I was born in Miami and being of Cuban descent cigars are a big part of my heritage," Beltran says, who is personally as passionate about cigars as he is fine food and drink. "Whether it's a backyard barbecue, a holiday with family, or just a Friday night, a great cigar is always part of the picture. Cigars are part of the ritual of community that I grew up with and I want to bring that sense of connection to El Vecino."
"Miami has a casual, familiar relationship with cigars, so curating the selection at El Vecino has been about deepening that relationship and demystifying tobacco while making this world approachable rather than packaging the smoking experience in pretense," El Vecino's cigar czar Nicolás Jiménez says. "No company is better equipped to deliver a cigar bar experience that's both uncommonly elevated and naturally Miami than Ariete Hospitality Group. Knowing that I have this group to help guide guests has made stocking our humidor a lot of fun. We've been able to focus on the cigar styles we love rather than just on what's safe and our guests — novice smokers and seasoned cigar people alike — trust us enough to let us lead them through an experience like no other."
El Vecino also serves a thoughtful and provocative cocktail menu and a carefully curated wine list that complements the cigar offerings. The wine director, Adrián López, promises unique selections with ports playing a pivotal role and glass and bottle choices that offer rich flavors, lush textures and bold yet smooth finishes. El Vecino also offers highly curated corporate and individual memberships with exclusive perks such as private lockers, invitations to members-only events and concierge service that provides preferential access to AHG's locations.
For more information, visit Elvecinomiami.com.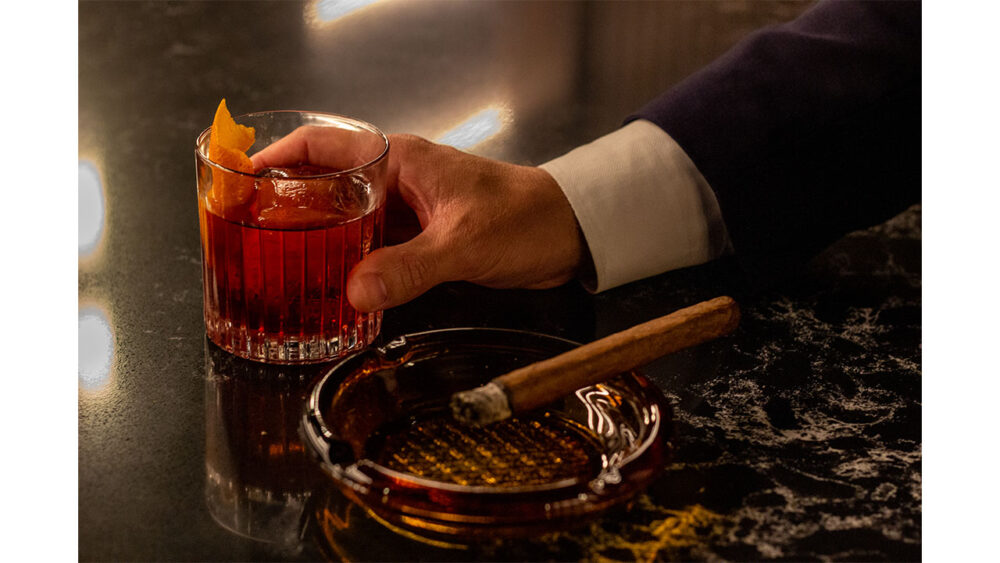 (Photos courtesy of Ariete Hospitality Group)