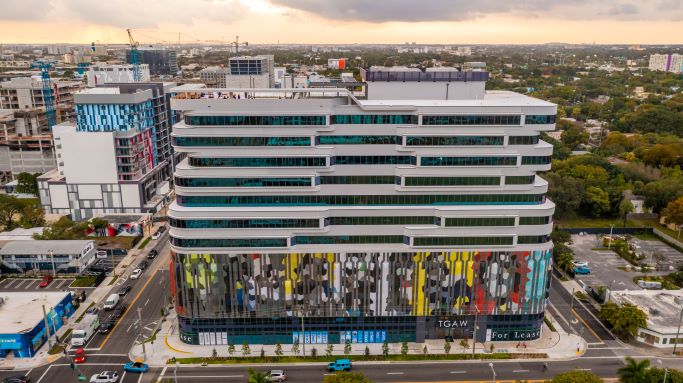 The Gateway at Wynwood Welcomes Two New Tenants
OpenStore also expanded its footprint within the office building
The Gateway at Wynwood recently expanded its lease with tech start-up OpenStore to occupy 40,000 square feet of space in the office building while adding two new leases.
Aron Rosenberg, the developer behind The Gateway at Wynwood, signed a new lease with Baseline, a vertically integrated platform investment company, for 5,000 square feet of office space. The Gateway at Wynwood also signed a lease with Mediterranean-Asian-Fusion Steakhouse concept DALIYAH and MIZU Rooftop Garden for approximately 6,000 square feet of ground-floor restaurant space plus the nearly 3,000-square-foot rooftop area.
The Gateway at Wynwood was represented by Colliers' Executive Managing Director Stephen Rutchik, Managing Director Tom Farmer and Director Tyler de la Pena in the office lease transactions. CBRE's Alex Cesar, First Vice President of Retail Advisory and Transaction Services, and Drew Schaul, Senior Vice President of Advisory and Transaction Services, represented The Gateway at Wynwood in the retail lease.
"Leasing activity has ramped up since the building's opening, and we are excited to welcome these new tenants and see a current tenant expand so fast at The Gateway at Wynwood," Shelby Rosenberg says, R&B Realty's Head of Development and Acquisitions, Asset and Property Manager, US Portfolio. "Our building continues to remain a hub for new-to-market tenants, expansions and relocations to Wynwood, the 'place-to-be' for companies looking for a live-work-play environment. We are proud of the role we have played in the transformation of this community into one of Miami's hottest neighborhoods."
The Gateway at Wynwood, which opened in 2022 as the first tenant took occupancy in January, recently achieved LEED Gold Certification. The building implemented practical and measurable strategies and solutions in sustainable site development, water savings, energy efficiency, materials selection and indoor environmental quality. Green buildings allow companies to operate more sustainably while providing the workers inside them a healthier, more comfortable space to work.
OpenStore, the building's first tenant, is a platform that allows entrepreneurs with Shopify businesses to sell their companies and receive liquidity for what they've built. Founded by Keith Rabois of Founders Fund, Jack Abraham of Atomic, and Michael Rubenstein, the former President of AppNexus, OpenStore connects merchants and customers with a single unified shopping experience through access to data, information and capital. In July 2021, the company announced that it raised $30 million in Series A funding with a valuation of $250 million. OpenStore's goal is to offer instant liquidity for eCommerce entrepreneurs.
Baseline focuses on developing and operating short and long-term single-family rentals. Its principals have delivered over 4,000 market-leading vacation rentals and 20,000 single-family homes with an aggregate value of over $7 billion. The move to The Gateway at Wynwood will be the Orlando-based company's first Miami office.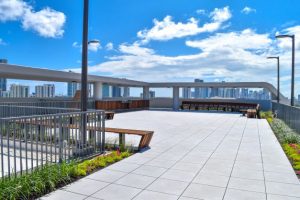 DALIYAH and MIZU Rooftop Garden's concept was created by DZYNE Hospitality and OPSO Group, which are partnering with Canada's A5 Hospitality. MIZU Rooftop Garden is set to open first, in time for Art Basel 2022, with the downstairs restaurant opening by the summer of 2023.
The Gateway at Wynwood provides about 195,000 square feet of leasable Class A office space and nearly 25,900 square feet of prime street-level retail space. Designed by renowned architect Kobi Karp, the environmentally responsible building features flexible floorplans, a private rooftop terrace, a gym, a unique bay window system, 24/7 on-site security, vibrant exterior cladding and covered parking.