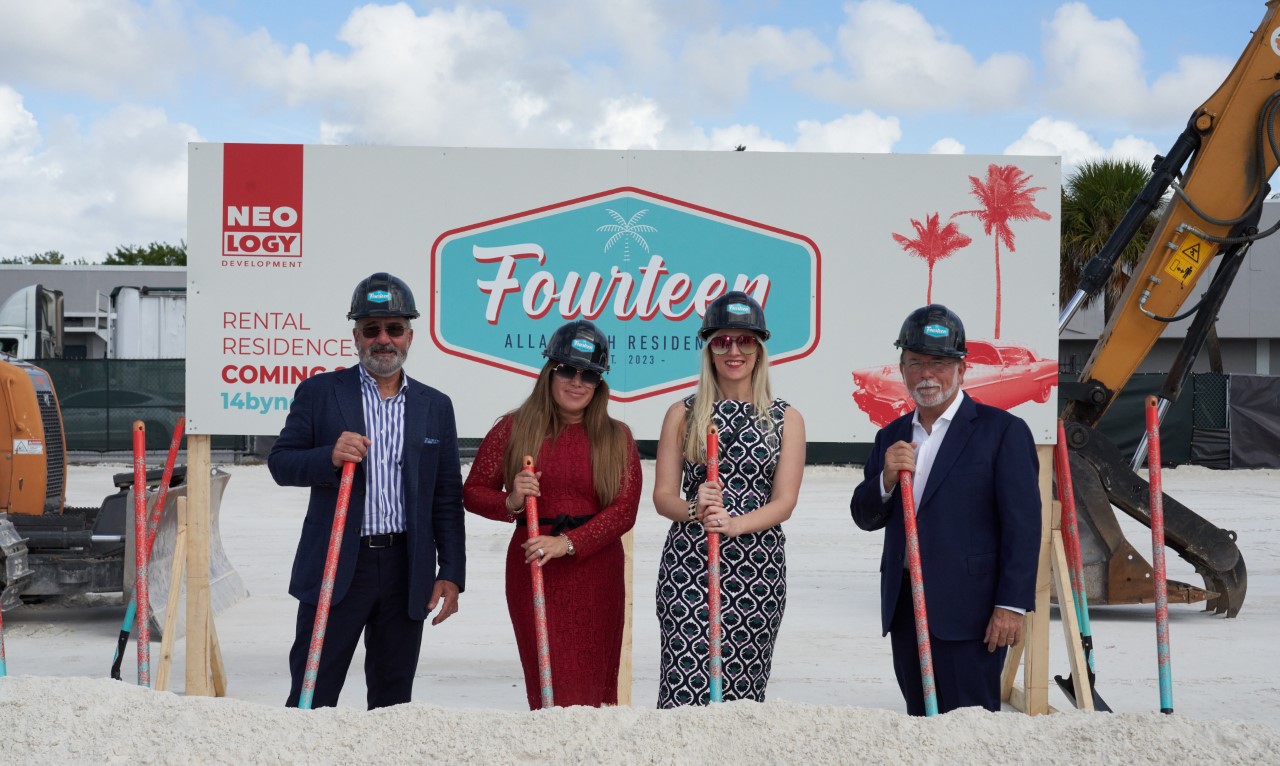 Construction Begins on Fourteen Allapattah Residences in Miami
Public officials and members of the building, design and financing team celebrated the launch
Scheduled to open in early 2024, the $70 million "Fourteen Allapattah Residences" will deliver 237 apartments and 5,000 square feet of ground-floor retail to the Allapattah neighborhood in Miami. Construction recently began on the property on NW 36th Street, just west of Wynwood. It is the third lifestyle-driven residential community in Miami's Allapattah neighborhood, led by Lissette Calderon and Neology Development.
"Allapattah continues to be a place that welcomes people from all walks of life and economic backgrounds, and we are honored that it has embraced Neology as well," Calderon says. "We owe a big thank you to Mayor Daniella Levine Cava, Commissioner Alex Diaz de la Portilla and Commissioner Keon Hardemon and their wonderful teams; to Churchill Capital for backing our vision with financing; and to the brilliant building and design team that has helped us achieve unprecedented quality over many years. Lastly, a big thank you to my partners, my former Wharton Professor and mentor Peter Linneman, along with his team of Jared Mintz and Kelley Brasfield of AOZA Fund."
Calderon founded Neology 20 years ago with the launch of a condo project on the Miami River. Its portfolio now consists of more than 1,500 apartment units completed or under construction in Miami's urban core, including The Julia, an upscale apartment community that will open in 2023. Neology's flagship Allapattah project, No. 17 Residences Allapattah, opened in 2021.
Fourteen Allapattah Residences will consist of a 14-story building with 180 apartment units connected via a pool deck to a five-story building with 57 apartments, including ground-floor walk-ups. It will offer studio, one- and two-bedroom units ranging from 450 to 1,000 square feet. Apartments will feature European-inspired cabinetry, quartz countertops, energy-efficient kitchen appliances, in-unit washers and dryers, energy-efficient AC and heating systems, and smart home technology adaptors. Other features will include curated original artwork, a multipurpose lobby, media lounges, living rooms, a rooftop pool and clubhouse, poolside cabanas, coworking spaces, conference rooms, an outdoor movie screen, an indoor and outdoor fitness and wellness center, with a yoga and cardio studio, dog park with dog wash area, bike storage, virtual concierge and smart package lockers, and a parking garage with electric car charging stations as well as a ride share lobby.