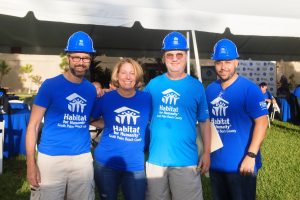 As Humanity of South Palm Beach County prepares for its annual CEO Build on Oct. 13 and 14 in Delray Beach, the nonprofit organization is hosting its CEO Build Kickoff Party from 5:30 p.m. to 7:30 p.m. on Sept. 8 at the Boca Raton Innovation Campus, 5000 T-Rex Ave. The kickoff event, presented by CP Group, features an evening of philanthropy and networking that lets guests learn about the upcoming CEO Build and how "leadership in action" can help build homes and communities. Participants can RSVP here.
The annual Habitat for Humanity of South Palm Beach County's CEO Build allows CEOs and corporate leaders to partner with a Habitat family to build strength, stability, and self-reliance through affordable homeownership. The event also provides unique networking opportunities through high corporate visibility and employee engagement. Donors in the new Founder's Circle and Elite Lead-ership Circle sponsorship levels can participate in a reserved, high-profile and limited build shift with exclusive benefits for the builders and their companies.
The event is presented by CP Group and Rack Electric. Confirmed Corporate Leaders scheduled to attend include:
Angelo Bianco; Managing Partner, CP Group

Jesse Rack; VP, Rack Electric​

Thomas Moraca; CEO, Moraca Builders

Ken Lebersfeld; CEO, Capitol Lighting

Kim Sarni; Managing Director, South Florida Business & Wealth

Mitch Sinberg; Senior Managing Director, Berkadia Commercial Mortgage

​Noam Ziv; CEO, El-Ad National Properties
"Home is really where you make it," Rack says.  "It's being with your family, having four walls and a roof, and getting an opportunity to spend time with the ones that you love."
Bianco and Rack, encourage fellow business leaders to join them to build a home in partnership with a family in need of safe, decent, and affordable housing. No construction experience is necessary.
"Home means to me, safety Bianco says. "You often hear a home is where you hang your hat, but I think home is where you can rest, you feel safe, you can be yourself, you can put your head down at night and go to sleep."
Registration for the CEO Build is available by visiting https://www.habitatsouthpalmbeach.org/ceo-build.html. Contact Danielle Iverson at diverson@hfhboca.org to learn more.