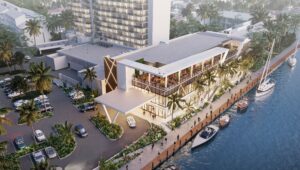 Construction recently began on a two-story building addition to the Hilton Fort Lauderdale Marina Hotel off 17th Street Causeway along the Intracoastal Waterway in Fort Lauderdale. The new 38,000-square-foot facility on the 9.86-acre site will host meetings and events and feature a restaurant and bar. 
"We are thrilled to have construction underway with the hotel addition and new hotel improvements," says Jeffrey Hansen, VP of Design & Construction from Brookfield Properties., which owns the property.
The project is slated to be finished by late 2022. The first level of the building will be used as a space for meetings and events. The second story will house a 9,500-square foot rooftop restaurant and bar overlooking the waterway.
"When choosing our project architect to design the hotel's expansion, we felt Adache Group Architects has the proven success of and a wide variety of work in Fort Lauderdale, so it gave us the assurance on a fresh approach for the Fort Lauderdale Marina Hotel new addition," Hansen says.
Brookfield Properties purchased the property in 2018 with plans to modernize the building and hired Adache Group Architects to foster the new building design, with Hirsch Bedner Associates serving as their interior designer.
"We are excited to begin construction on the Hilton Fort Lauderdale Marina Hotel meeting and event space," says Daniel Adache, Chairman & CEO of Adache Group Architects. "And we are grateful for the opportunity to be a part of the Brookfield Properties team to bring much-needed events and meeting space to Fort Lauderdale."