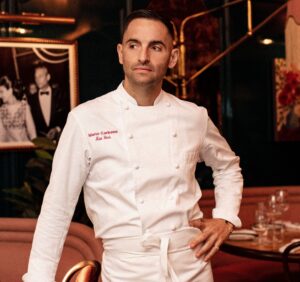 Well, they've done it again. After Major Food Group scored successes with Carbone, Dirty French Steakhouse and ZZ's Club, expectations were high—to say the least—for Contessa, the five-month-old Miami outpost of the popular Boston eatery. It's not like the Boston original was some august establishment; it debuted in 2021. But the place proved so popular with critics and diners that its owners grabbed a venue in the Design District and enlisted their loyal interior designer (and Contessa's creative director), Ken Fulk, to conjure yet another fantasy environment.
"Combining the height of old-world sophistication with the iconic glamor of the Magic City, Contessa Miami transports guests to Lake Como while being firmly rooted in the high-fashion of the Miami Design District," Fulk has (highmindedly) explained. "At this most major destination, grand gestures abound—from emerald drapery and marble floors to one of the country's most gorgeous staircases. It's a joy to spend time in the space."
Fulk's interiors are as lavish and elaborate—and pink—and those he created for the earlier trio of Major Food Group's restaurants. But given that we're in the midst of seasonable weather, my friend and I chose to dine on the terrace, which, with its striped canopy and hanging vines, did manage to evoke a restaurant at one of Lake Como's grand hotel palaces—lovely, but not overwrought or intrusive.
It was easy to get down to business. We did not over-order, but followed our server's suggestions. We carefully considered the whipped ricotta, but figured it would be too much, given what we had in mind from the menu. But our server brought the ricotta anyway—and it was nicely offset by honey and served with crispy grilled focaccia.
I hadn't had pizza in weeks, but when I saw the version on the menu with shaved cremini mushrooms and fontina, I had to order it to see if was as toothsome as its distant cousin at MC Kitchen, a legacy restaurant also located in the Design District. From the first bite, the funghi pizza was almost overwhelmingly savory, the flavors competing with each other for richness but somehow brilliantly cohering. The texture of the crust was perfect—substantial, with the right amount of sponginess. I wouldn't let the server clear the last little slice—that's how much I treasured it—even as the next course was about to arrive. That would be the spicy lobster capellini—which wasn't spicy at all. But it was unconscionably satisfying: The sauce had the perfect amount of stickiness and the mount-feel was incredible. This quality of this pasta was as elevated as any I've enjoyed in Italy.
What emerged from the kitchen next was a dish I'd never heard of before but had gambled on for its novelty value: butter chicken Sostanza—the last one cooked in the restaurant that night, we were told. A little research revealed that this item is a Florentine specialty, though our server noted that this particular preparation comes from only one spot in Sicily. I was not about to quibble about geography—I just let our server make room for our (excellent) side dishes of grilled mushrooms and pecorino polenta.
I'd expected the chicken to be pounded flat, but it was hearty and improbably juicy with a delicious, lightly fried crust. It took a while to eat—we paced ourselves to the jazzy strains of "Tu Vuo' Fa' L'Americano," and when we couldn't eat another bite, I did something I never do. I had them wrap up the rest to bring home for the next day's lunch. It would have been a sin to waste these flavors—or abbreviate the memory of this outstanding dinner.