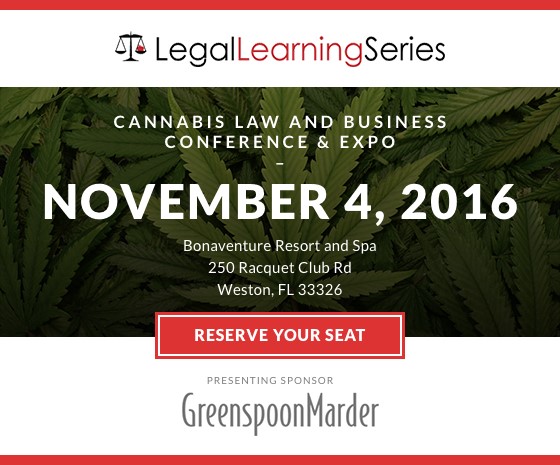 LLS Annual Canna Law Conference – Presented by Greenspoon Marder
The 1st Annual Cannabis Law and Business Conference & Expo will be focused on law affecting practitioners and businesses within the cannabis industry. Join hundreds of professionals in South Florida this Fall, advance your education, your career and your business. Whether you are new to this industry or practice area, or an experienced practitioner, including Continuing Legal Education CLE, this conference has you covered. This event is geared for attorneys and professionals within the cannabis industry including business owners, individuals interested in starting a cannabis business, providers of private equity & investment resources, and professional service providers.
In 2016, 25 states in the U.S. plus Washington D.C., Puerto Rico, and Guam have enacted laws to legalize medical marijuana. Florida is considering medical marijuana on the ballot in November. As the cannabis industry prepares to enter new states and new markets legal practitioners, investors and businesses have a need to get out in front of these issues and the changing legal landscape.
For the Conference agenda and to register click here
November 4, 2016
8am – 7.30pm
Bonaventure Resort & Spa
250 Racquet Club Rd, Weston, FL 33326
COST
$495
PUBLIC – OR IF YOU DO NOT NEED CLE
$250 with code – CANNALAW