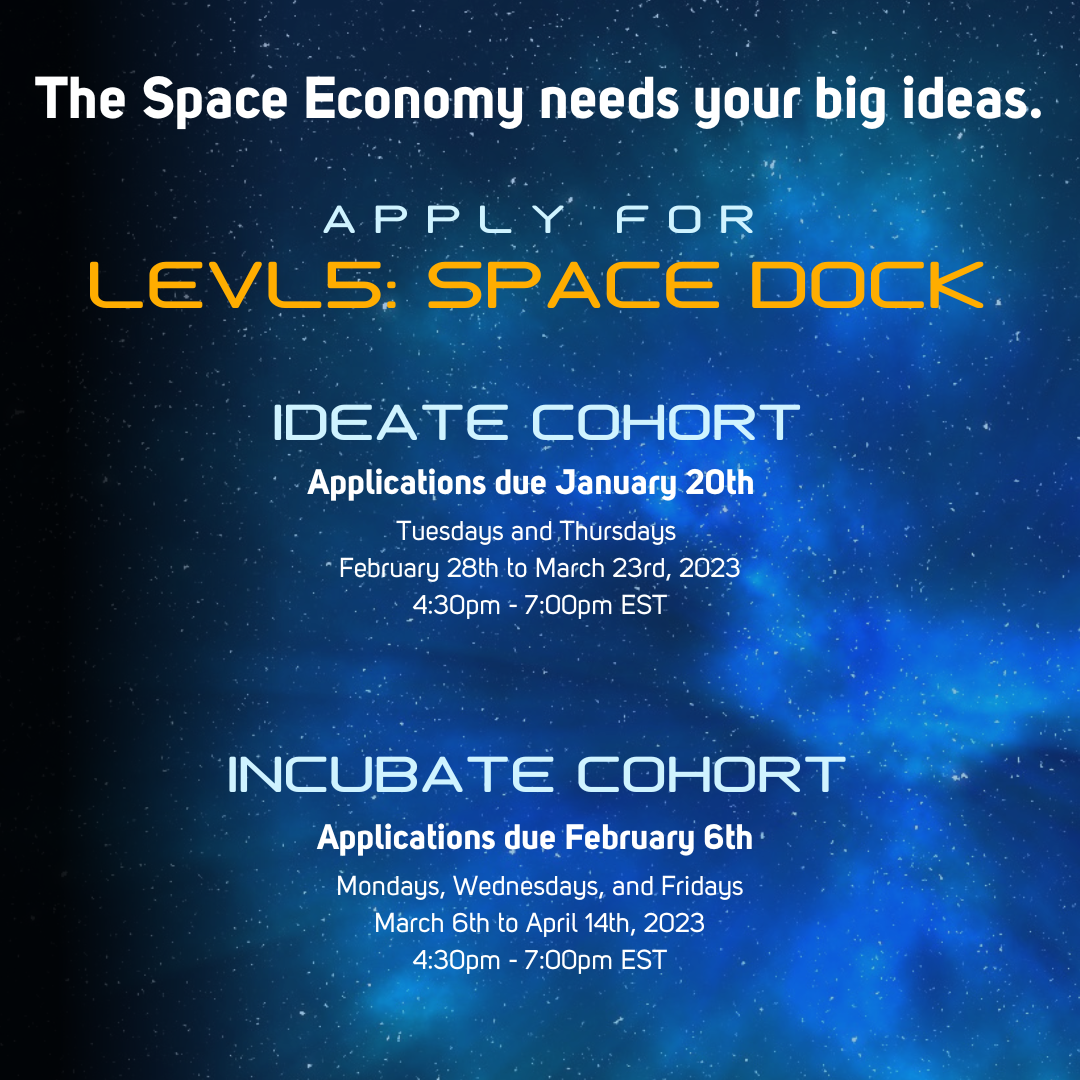 NSU Broward Center of Innovation and Space Foundation to Host Four-Week Ideate and Incubate Programs
The economic and education development facility is partnering with the Space Foundation on the endeavor
The Alan B. Levan| NSU Broward Center of Innovation (Levan Center of Innovation) has partnered with the Space Foundation to launch the inaugural LEVL5: SPACE DOCK™ Ideate and Incubate Cohort programs at the Levan Center of Innovation. The Ideate program features a 4-week program held from 5 p.m. to 7 p.m. every Tuesday and Thursday from Feb. 28 through March 23. The Incubate program is a six-week program held from 9 a.m. to 11 ap.m. every Monday, Wednesday, and Friday from March 6 through April 14.
"By partnering with the Levan Center of Innovation, we are able to extend our offerings, better support our community of space innovators, and expand our ecosystem beyond earth," Kelli Kedis Ogborn says, Vice President of Space Commerce & Entrepreneurship at the Space Foundation, a nonprofit advocacy organization founded in 1983 for the global space ecosystem. "It's more than just satellites, rockets, and launch companies, the expanding space economy needs a diversity of sectors, backgrounds, and skillsets – we are looking to help fill that gap."
The Ideate program supports space and space-adjacent businesses in the pre-seed stage, assisting with their growth. The program will be taught by space industry and technology commercialization experts and will introduce participants to learn how to contextualize, navigate, and leverage the complex global space ecosystem. The Incubate sessions aim to advance the design thinking process from the Ideate stage. Participants identify how the founder's business applies to the space industry and the right growth strategy for insertion into the global space ecosystem.
Entrepreneurs with space-related business ideas are encouraged to apply for the inaugural cohort here. Time will be allotted for the cohort participants to take advantage of the Levan Center of Innovation resources for open innovation, including using one of its labs through a discounted membership level for product prototyping.
"The space economy is a booming $469 billion industry as of 2021, with expected accelerated growth estimated to reach $1 Trillion in a few years," John Wensveen says, Ph.D., NSU's Chief Innovation Officer and Executive Director of the Alan B. Levan | NSU Broward Center of Innovation. "The goal of LEVL5: SPACE DOCK™ is to help put South Florida and NSU on the map in the space sector and to incubate and accelerate space entrepreneurship opportunities within the region."