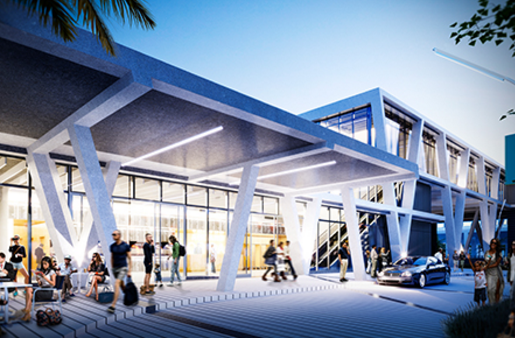 Sneak Peek: Brightline station rises
The Brightline high-speed rail station in Fort Lauderdale is going vertical.
Community leaders were invited Friday to "make their mark" at the Fort Lauderdale station by signing their initials in the concrete as the columns are poured.
"We have received such strong support for Brightline from the Mayor, Commissioners and community leaders here in Fort Lauderdale. We invited them to leave their mark on one of our iconic V columns that will become part of the station structure," said Julie Edwards, Brightline's chief marketing officer. "This marks a significant step forward in bringing this transformative development to Fort Lauderdale. Soon we will start vertical construction, putting the walls and "V" columns into place. In just about one year, we'll be opening the station and beginning Brightline service to Miami and West Palm Beach."
The columns reaching up to 45 feet tall will also be illuminated at night and can change color. In Fort Lauderdale, 16 V columns are being constructed on site, weighing up to 70 tons.
The V columns provide a defining architectural element to each of Brightline's stations in Miami, Fort Lauderdale and West Palm Beach, which have been designed by Skidmore, Owings & Merrill LLP (SOM), one of the largest and most influential architecture, interior design, engineering, and urban planning firms in the world, in association with Zyscovich Architects, an integrated urban design, architecture, and interior design firm headquartered in downtown Miami. Moss & Associates of Fort Lauderdale is overseeing the construction of the Fort Lauderdale and West Palm Beach train stations.
Click on the picture below to see more images.
Related stories:
How Brightline, the Tri-Rail Coastal Link and Wave Streetcar are game changers for mass transit.
Rail mass transit creates hot spots for future development.
Spaces feature on the Miami Central station