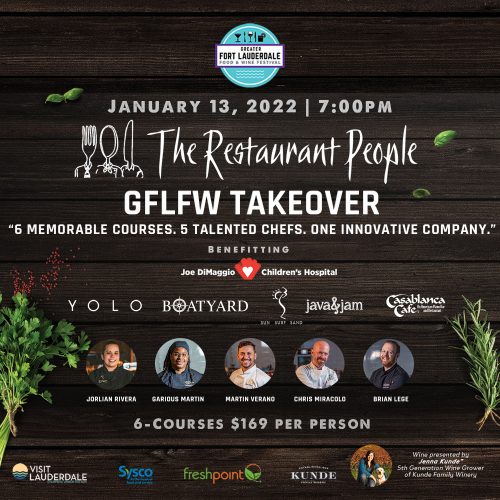 Tickets Remain for Greater Fort Lauderdale Wine and Food Festival's TRP Taste Takeover
The event will occur tonight at Java & Jam off Las Olas Boulevard
While most of the culinary events during the Greater Fort Lauderdale Food & Wine Festival (GFLFW) reached capacity, foodies still have an opportunity to attend one of the premier culinary events during the TRP Taste Takeover tonight at Java & Jam at 301 E. Las Blvd. in Fort Lauderdale.
The Greater Fort Lauderdale Food & Wine Festival, sponsored by Visit Lauderdale and produced by 66 Productions, features monthly events culminating in a weeklong celebration to highlight the best of Greater Fort Lauderdale's eateries. As part of the Savor Dining Series, The TRP Takeover features a six-course meal prepared by Corporate Executive Chef Chris Miracolo of The Restaurant People, Jorlian Rivera of S3, Chef Garious Martin of Casablanca Cafe, Chef Martin Verano of YOLO and Chef Brian Lege of Java & Jam. Each course will be paired with wine from Kunde Family Winery and presented by Jenna Kunde, the 5th generation winegrower. Tickets are $169 per person, with proceeds benefiting the Joe DiMaggio Children's Hospital.
The culmination of the festival will occur Saturday, Jan. 15, at noon at the Grand Tasting at Las Olas Oceanside Park in Fort Lauderdale. The event will feature food and beverage tastings, cooking demonstrations and live music. Tickets begin at $69 per person.
For more information or to purchase tickets, visit https://gflfoodwine.com/.