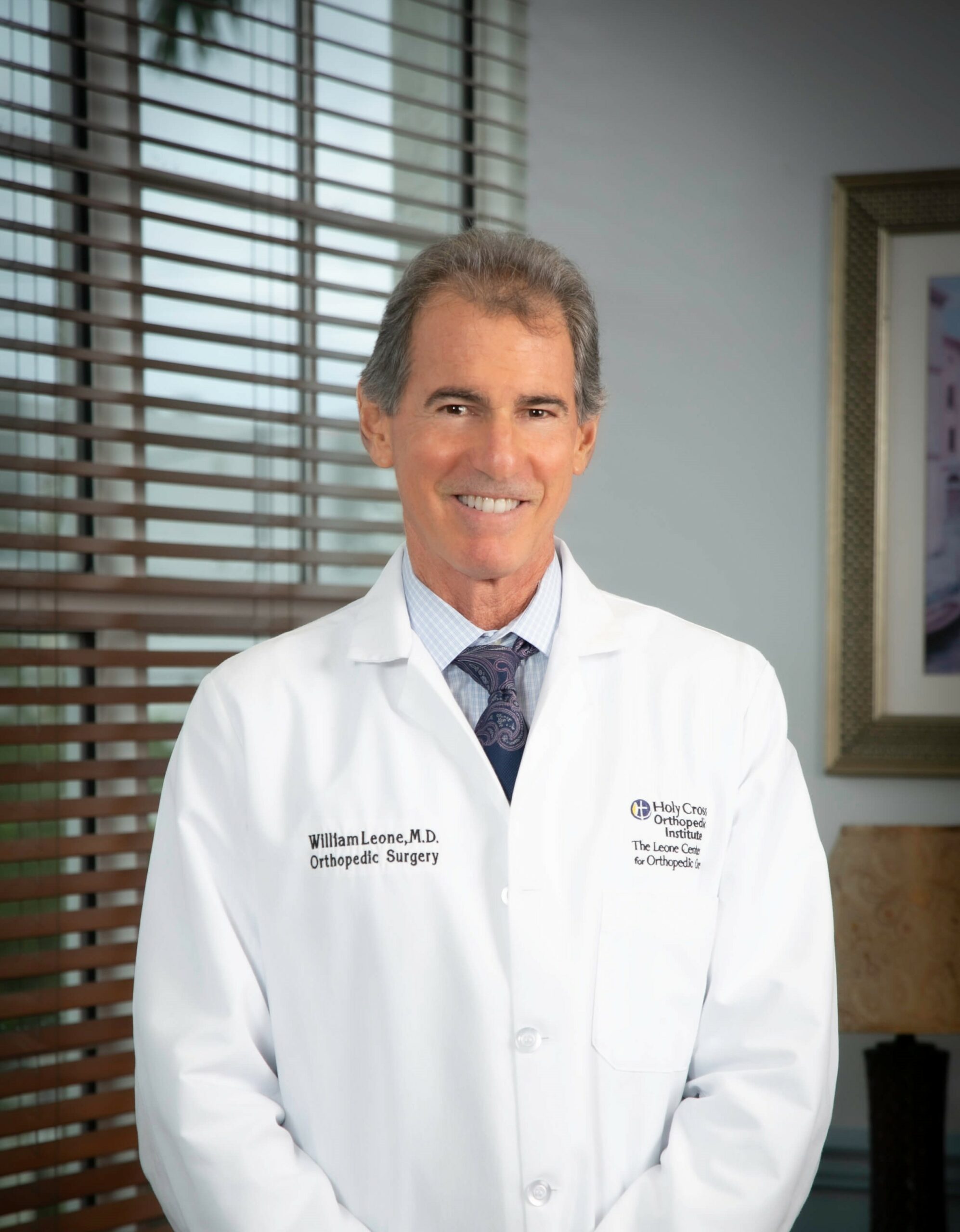 2021 Excellence in Healthcare Honoree: Dr. William A. Leone
Meet Dr. William A. Leone, Orthopedic Surgeon at The Leone Center for Orthopedic Care
A renowned orthopedic surgeon and head of The Leone Center of Orthopedic Care at Holy Cross Health, Dr. Leone's specializes in solving complex hip and knee problems. His patient-centered model for care is based on decades of clinical experience and common sense: treat patients with respect and compassion by giving them personal attention, honoring their time, and providing them with the information they need to make well-informed decisions about their own health care.
He believes a respected, well-informed patient has not only a faster, smoother recovery but also a better experience and a better outcome. An award-winning surgeon, Dr. Leone has been honored as a doctor of the year from the Arthritis Foundation and Top Orthopedic Surgeon by Castle Connolly Medical Ltd. for the past 11 consecutive years.
Favorite Quote: Be ready, so you don't have to get ready.
Fun Fact: I love the ocean and am an avid scuba diver. I'm trained for advanced scuba, including open water night diving. I am a pilot with a commercial rating. The first item I bought upon finishing residency was a plane and I've owned planes and flown for the past 25 years. I'm also an inventor. I designed the Pelvic Alignment Level (PAL), a patented device that allows surgeons to achieve a greater level of implant precision when performing total hip replacements.
What challenges have you faced in your career, and how did you overcome them? Before I founded my practice, I was frustrated and felt as if I was on a treadmill. I was working as fast as I could where people just became a number. I love the relationships I form with my patients. Before, this was being lost. I made the decision in 2009 to create The Leone Center for Orthopedic Care so I can take care of patients the way I would want my family or myself taken care of.
What has been the most monumental moment of your career thus far? I cared for this wonderful lady with horribly arthritic and deformed hips and knees who did not come from means. She recently returned beautifully dressed and shared with me that she completed her engineering degree and was now taking care of her whole family. She hugged me. This is why I do what I do.
How is the healthcare industry important to you personally? For my family and me, we've always emphasized our health because, without health, nothing else really matters. I feel blessed that I get to help others with their health. I'm blessed that my patients constantly let me know how grateful they are.
How did the pandemic disrupt your specific role in the healthcare industry, and how did you adapt? Elective hip and knee surgeries were completely suspended for seven weeks and have only slowly increased since this time. I'm pleased to say that only recently, with vaccinations increasing, more people are now comfortable coming back into the medical environment for their care. My office staff and the hospital staff have done a wonderful job making the environment safe, and my patients are letting me know that they feel safe.
What's the best piece of advice you've ever gotten? Prioritize great patient care over everything else. Always do what is best for the patient.
What do you love most about working in healthcare? I know I'm really making a positive difference in people's lives and it feels great.