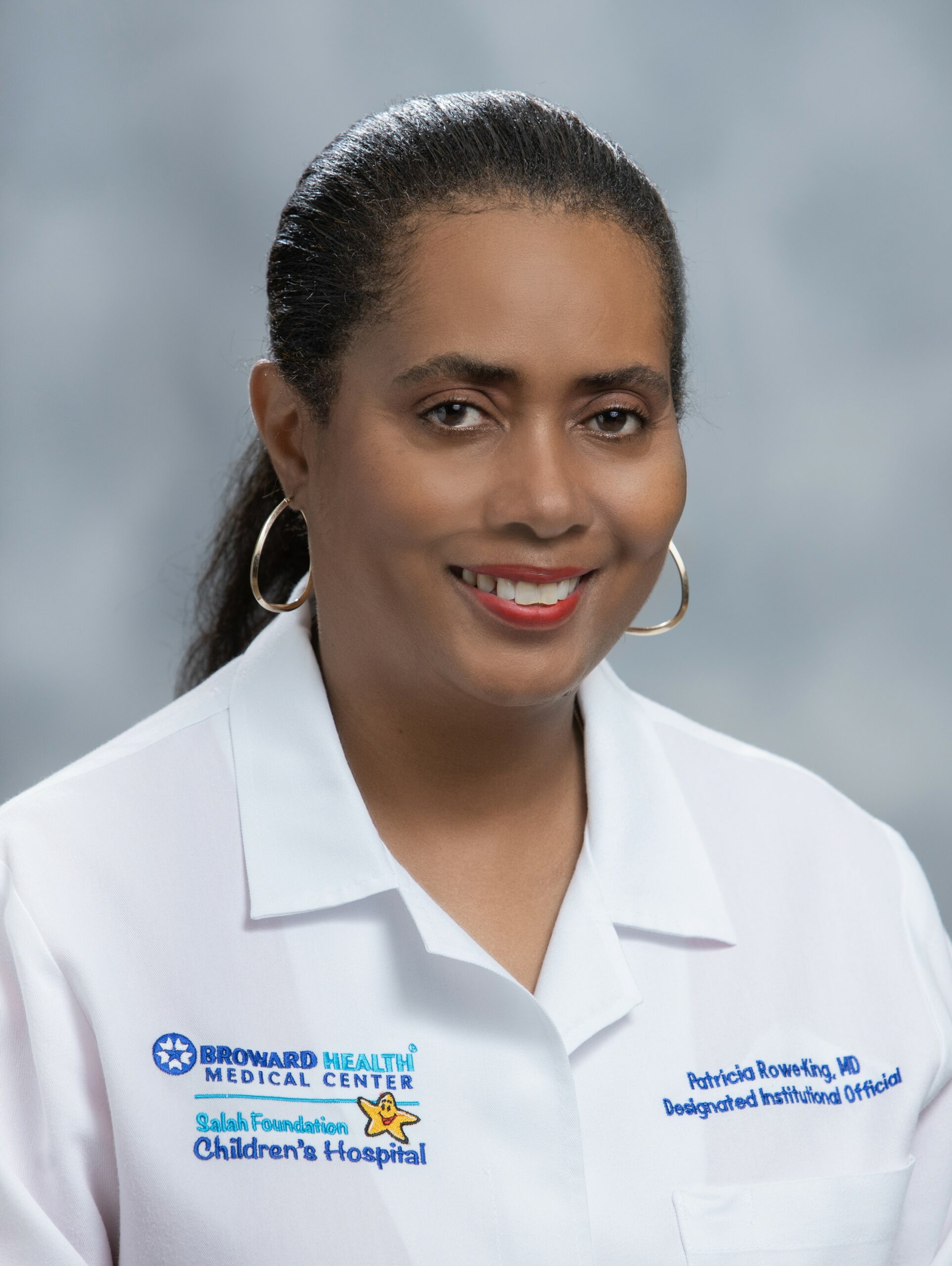 2021 Excellence in Healthcare Honoree: Patricia Rowe-King MD
Meet Patricia Rowe-King MD, Designated Institutional Official; Pediatric Residency Program Director; Medical Director Pediatric Services at Broward Health
Patricia Rowe-King, MD serves as the Designated Institutional Official for Broward Health, supervising all Residency and Fellowship Training Programs and she also serves as the Medical Director for Pediatric Services (Hospitalist and Emergency Medicine) for Envision Physician Services at Broward Health.
Dr. Rowe-King graduated from the University of Miami School of Medicine and completed her Pediatric Residency at Jackson Memorial Hospital/the University of Miami. She holds faculty appointments at the University of Miami, Florida International University and Nova Southeastern University. She is the Medical Mission Team Director of a nonprofit organization for the past 18 years that conducts medical mission work in Jamaica, the Dominican Republic and Belize.
Favorite Quote: "All is well."
Fun Fact: I love children, animals and football.
What challenges have you faced in your career, and how did you overcome them? Over the course of my 30-year career, I have faced a myriad of challenges, most of which were related to the lack of resources available to provide comprehensive care to children who were underinsured, had complex medical conditions and had access to care difficulties. These have been largely overcome by forming community partnerships, collaborating with philanthropic health care providers and fostering the commitment to providing equitable care to all children. Working at Broward Health, a Safety Net Health Care organization, we are able to provide family-centered care to all children in our community and those referred for our services.
What has been the most monumental moment of your career thus far? I have been blessed to have had multiple opportunities throughout my career to make a difference in the life of children and families. As my career progressed as a Leader in the Children's Hospital, I was asked to develop a new Pediatric Residency Training Program. My love of teaching and motivating the next generation of Physicians propelled me to accept the challenge. I collaborated with multiple Pediatricians, Pediatric Medical and Surgical Subspecialists, Nursing Leadership and the Graduate Medical Education Department to develop a program from the beginning. Watching the Pediatric Residency Program grow and thrive and produce exceptional Pediatricians has made me extremely grateful and proud. I have progressed to now being the Designated Institutional Official, where I oversee the training of all Residents and Fellows at Broward Health from all disciplines.
How is the healthcare industry important to you personally? I have been fortunate enough to work as a Pediatrician in this community for over 30 years. I have a vested interest in the delivery of complex medical care to children with special needs and empowering and protecting all vulnerable populations of children in our community. I have several passions, which include being an educator and mentor to students, residents and fellows.
How did the pandemic disrupt your specific role in the healthcare industry, and how did you adapt? The pandemic completely disrupted the way we deliver care to our patients. We had to restrict visitation in many areas of the hospital. We still allowed loved ones to be with patients on the labor floor and patients in the Children's Hospital. Our patients had to interact with us when our faces were covered with masks and shields. Our patients could not see us smile or laugh. We tried to be there completely for our patients, substituting in many cases for their loved ones. We used I-Pads for increased communication with our patients and with their family members. We celebrated with them and held them up till they could once again hold themselves up. True heroes emerged from healthcare and frontline workers all around and within us and they continue to inspire us today.
What's the best piece of advice you've ever gotten? Always be grateful, learn from everyone, respect everyone, build relationships.
What do you love most about working in healthcare? I absolutely love being a Pediatrician. The endless possibilities and the enduring hope in the eyes of a child inspire me every day to be my best self.