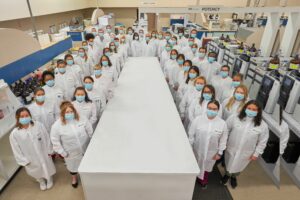 ACS Laboratory, a Boca Raton-based lab testing facility for cannabis and hemp products, was recently approved as a Colorado State Certified Hemp Testing Laboratory. According to the CDPHE website, ACS Laboratory is now the only certified facility for the entire scope of testing, including THC and other cannabinoids, heavy metals, mycotoxins, microbiology residual solvents, moisture content and the entire pesticide panel of 102 pesticides.
ACS Laboratory offers the most sensitive and comprehensive pesticide screening and confirmation using the liquid chromatography-mass spectrometry LC/MS/MS method. This method helps provide an accurate analysis of pesticides commonly used during cannabis cultivation.
"Pesticides used in cannabis cultivation can cause serious health issues, and we want to ensure that plants or products are compliant and safe for all who use them," says Roger Brown, president and Founder of ACS Laboratory. "We are very pleased to be named a Colorado State Certified Hemp Testing Lab and are fully prepared for the CDPHE's Industrial Hemp Pesticide Testing regulations."   
Along with the recent certification from Colorado, which will have the strictest regulations on pesticides of any state in the U.S. once its Industrial Hemp Pesticide Testing regulations take effect, ACS has earned 61 Emerald Test Badges for accuracy in testing in 2019, 2020 and 2021. The company is ISO 17025 accredited, DEA licensed and CLIA licensed with the largest state-of-the-art facility in the eastern U.S.