The Boys & Girls Clubs of Miami-Dade is bringing back its annual in-person fundraiser, "Wild About Kids" Gala at The Biltmore Hotel in Coral Gables on Saturday, Nov. 12. The 14th annual event features a cocktail reception, dancing, a silent auction, live entertainment and dinner in the Grand Ballroom at 8 p.m.
The three-course dinner will also honor notable alums as they are inducted into the Class of 2022 Alumni Hall of Fame. The evening will feature a special performance by Boys & Girls Clubs of Miami-Dade's youth members' performing a musical showcase. The evening will conclude with live music and a DJ set.
Expected attendees include top community leaders, philanthropists and influencers, who will also have a unique opportunity at the event to sponsor a child through donations. The proceeds will fund the Clubs' crucial programs, including after-school educational programs, tutoring and homework assistance, social skills, dance, arts and crafts, professional mentoring, and summer and athletic programs.
"It's an honor to host our 14th Annual' Wild About Kids' Gala at the stunning Biltmore Hotel and we look forward to seeing everyone back in person," Alex Rodriguez-Roig says, president of Boys & Girls Clubs of Miami-Dade. "We are incredibly grateful and humbled by the continued support of our returning co-chairs Andy and Allison Stuart, our board members and our donors who are committed to providing great futures for our area youth."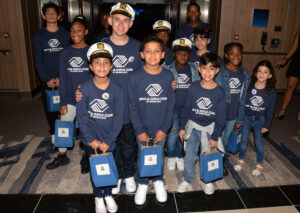 The 14th Annual "Wild About Kids" Gala is again co-chaired by former Norwegian Cruise Line president and CEO Andy Stuart and his wife Allison Stuart, both long-time supporters of Boys & Girls Clubs of Miami-Dade. Olga Guilarte, a Boys & Girls of Miami-Dade's Executive Committee member, is the special event chair.
"Allison and I are excited to have the gala back after two years of not holding the event, and we are honored to return as co-chairs of Boys & Girls Clubs' most significant fundraiser of the year," Stuart says. "We look forward to enjoying a wonderful night full of exceptional entertainment, dancing and dinner while raising much-needed funds for Boys & Girls Clubs of Miami-Dade's many positive programs."
For more information about sponsorship or underwriting opportunities, please get in touch with Rhia Hunter at (305) 446-9910 ext. 108, or email rhunter@bgcmia.org or visit https://bgcmia.org/events/14th-annual-wild-about-kids-gala/.