Florida's largest nonprofit affordable housing developer delivered its first project outside of Miami.
Earlier this month, Carrfour Supportive Housing celebrated the completion of the $17.5 million Dr. Alice Moore Apartments at 335 27th Street in the Northwoods Shore neighborhood of West Palm Beach. The development was named in honor of Dr. Alice Moore, a long-time community resident, educator, and civil rights advocate, who demonstrated a lasting commitment to the West Palm Beach area and advocacy for affordable housing and African American culture.
The development's 36 units provide residents earning at or below 60% of HUD's area median income with individualized and comprehensive services within a supportive community that foster residential stability, self-determination, wellness and independence. Roughly 75% of the community's units are earmarked for adults living with severe mental illness who require supportive services to live independently. The mid-rise, four-story apartment building features a mix of studios and one-bedroom units with amenities including an outdoor community green space, a library/business center, a gym, lobby and reception area, and ample meeting space.
"We are extremely grateful for the support we received from the City of West Palm Beach in helping to make this development a reality. Dr. Alice Moore Apartments offers residents who are living with mental illness the promise of a brighter future by supplying them with wide-ranging and thorough supportive services within a safe and affordable housing community that they can be proud of to call home," said Stephanie Berman-Eisenberg, president and CEO of Carrfour Supportive Housing.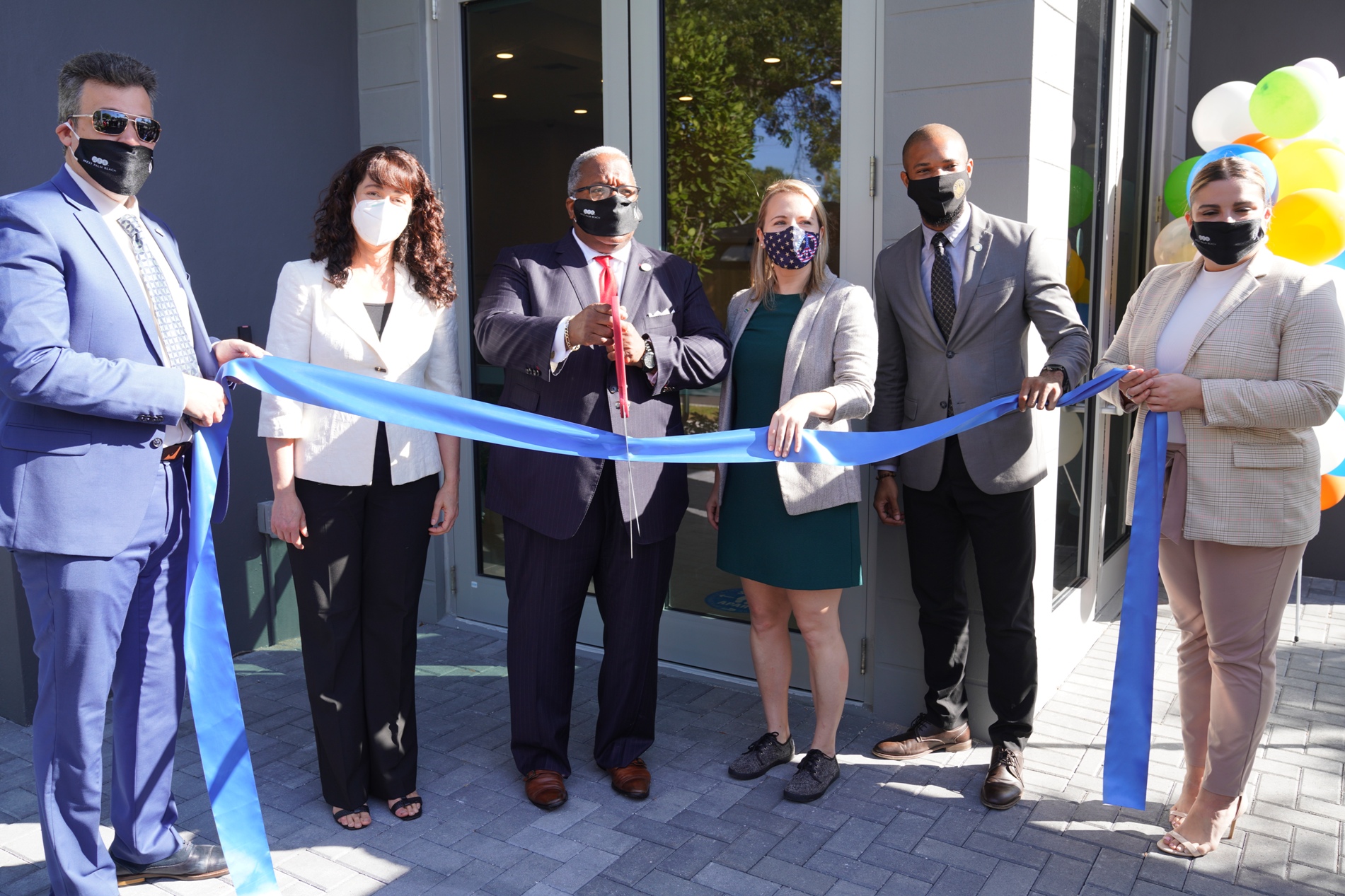 Construction financing was provided by Bank of America Community Development Banking. Additional funding was provided by Florida Housing Finance Corporation, Enterprise Community Partners, and The City of West Palm Beach, which through its Department of Housing and Community Development contributed $1.1 million in federal program funds and other development incentives for the project.
The ribbon cutting ceremony was attended by West Palm Beach Mayor Keith James, City of West Palm Beach District 1 Commissioner Kelly Shoaf, City of West Palm Beach Housing & Community Development Director Jennifer Ferriol, and Kristofer Stubbs, Legislative Assistant to Senator Bobby Powell, Jr., Senate District 30.
"As a supportive living community, the Dr. Alice Moore Apartments will make a positive difference in the lives of West Palm Beach residents impacted by mental illness and residential instability," said James. "We thank Carrfour for their partnership. We are proud they chose our city in which to establish this project."
Dr. Alice Moore Apartments is being managed by Crossroads Management, a wholly owned subsidiary of Carrfour Supportive Housing, which is in charge of facilitating innovative on-site supportive services aimed at helping residents achieve wellness independence, including a full range of behavioral health and primary care services.
Miami-based Carrfour, which has been developing affordable and supportive housing for 25 years, is also nearing completion of The Residences at Equality Park, a 48-unit affordable housing community in Wilton Manors and is building Heritage Park at Crane Creek, a mixed-income housing development in Melbourne in Brevard County.