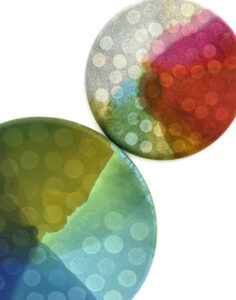 Circles have fascinated Ronen Azulay since childhood. So, it's no surprise that the Israeli-born artist recreates them over and over again in his work, usually cutting them from repurposed denim and other textiles, removing their dye then repainting them in a painstaking process, which he says allows him "to dialogue with each one." 
His newest piece, Community, mounted on two walls as a permanent installation in the newly redesigned Saks Fifth Avenue at the Bal Harbour Shops, delivers shimmer and depth, composed of 18 circular, brightly colored denim canvasses that vary in size, each beveled to suggest the sensation of movement and a 3D effect. Mirrors throughout the store amplify the piece's impact, providing glimpses from various angles. Azulay's circles can be seen as separate works or the collective sum of the two expansive walls that hold them. The largest circle measures 40 inches, the smallest 16—and all shine in a range of hues. 
"They are imperfect circles, actually," explains Azulay, pointing out that part of the message in his piece is that perfection does not exist, and that diversity makes us stronger. "They are as unique as people," he says of the circles. "Even the denim itself has its own DNA, the way it is dyed and weaved originally, and then what happens when I work with it." As a piece of public artwork that begs for interaction, "Community," according to Azulay, "celebrates the beauty in us all, despite age, gender, ethnicity and more." 
Azulay has drawn inspiration from artists as diverse as Henri Matisse for his use of decorative tiles and Chuck Close for his modern expression of pointillism. Some of his recent showings were held at the Dean Project at Art Miami in 2019 and at a pair of New York exhibitions in 2021: the Affordable Art Fair at the Metropolitan Pavilion and the Other Art Fair at the Brooklyn Expo Center.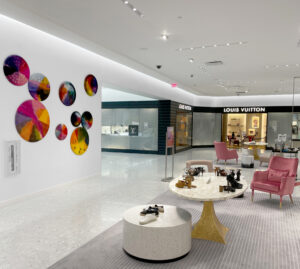 Just as each circle contributes to Community as a whole, the variety of experiences in Azulay's life have led him to this exact point in his career, a time when he is willing to speak his mind, expound on his worldview, and embrace his background. "I worked as a designer in the fashion industry for nearly two decades," he says. Though he was ready to leave the corporate world to follow a less conventional path, Azulay's knowledge of the industry and his awareness of its indisputable allure made him the perfect fit for Saks Fifth Avenue.
Appreciating the artist's connection to fashion, Saks bought a few of his paintings for a store in New Jersey last year, and the installation was well received. The success of this partnership led to Saks commissioning a new work by Azulay for the Bal Harbour location, as the venerable company reimagined the location. "They gave me a lot of freedom to express myself," Azulay says. 
Community, like all of Azulay's work, relies on cast-off fashion waste—repurposed denim, dyes and textiles—and found objects. In a sense, his pieces might be described as sustainable fashion that one doesn't wear, but nevertheless contributes to the aesthetics of the industry. "Perhaps being a fashion designer and an artist," he says, "are truly part of the same continuum."
By Becca Hensley