Months into the pandemic, business owners are keen on recovery. The hope of getting business back to normal was alive and well when U.S. Secretary of Commerce Wilbur Ross visited South Florida to attend a special Greater Fort Lauderdale Alliance Executive Roundtable Oct. 23.
Ross toured the showroom and distribution center at CITY Furniture's million-square-foot headquarters in Tamarac before discussing the pandemic's South Florida economic impacts with governmental officials and top executives from the region's aviation, real estate, education, accounting, retail, banking and legal sectors. Some reported ongoing hard hits to their businesses, while others said they've made changes needed to grow sales. Most voiced the need to expedite a new federal stimulus program to help South Florida families and enable companies to keep the economy open and operating safely.
Greater Fort Lauderdale Alliance president/CEO Bob Swindell said the economic development public/private partnership chose CITY Furniture to host the event as a company with 2,300 employees that navigated pandemic challenges and is adding hundreds of jobs as it grows statewide. When the pandemic struck, according to CITY Furniture President Andrew Koenig, the firm quickly adapted its advanced technology, people and systems already in place for the firm's three-year, $150 million growth plan.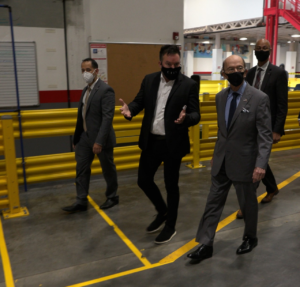 "As the dominant retailer of furniture and upholstered goods in Florida, City Furniture is a great Florida success story, and they're accomplishing all of this in the middle of the pandemic," Ross said during the event. "They're about to open two new branches, each more than 100,000 square feet, and the million-square-foot warehouse that operates 24/7 means good employment for people every day and night, all year long. That's important to the community," he added.
CITY Furniture's online sales are up 300% year-over-year, Koenig said, and the company is on track for record revenues this year. The brand is expanding in Southeast and Central Florida, constructing its third Orlando area location, a 114,000-square-foot superstore in Altamonte Springs. His team has expansion into the Tampa market on the boards, Koenig added.
"We're fortunate that in the stay-at-home economy, with a family's home suddenly serving as office, school, entertainment center and staycation spot, we're able to meet the increased demand for home furnishings," said Koenig. "Staying nimble has helped us bring customers the safe, comfortable solutions they want, from online shopping, chat, and phone selling, to by-appointment and safe in-store shopping."
Among the other corporate and governmental leaders joining Commerce Secretary Ross at the Alliance Roundtable were Broward County Mayor Dale Holness, Spirit Airlines President/CEO Ted Christie, Broward College President Gregory Haile, National Jets President/CEO Sam Robbin, Florida State Representative Chip LaMarca, Gunster Chairman and former U.S. Senator George LeMieux, Tamarac Assistant City Manager Kathleen Gunn, Wells Fargo Senior Vice President Erick Strati, Stiles Chief Investment Officer Rocco Ferrera and Keefe McCullough Managing Partner Bill Benson.
"CITY Furniture is a quintessential example of the value of entrepreneurship and the innovative spirit of Greater Fort Lauderdale. We admire the company's reinvestment in both the business and our community and are glad that Secretary Ross had the opportunity to learn about City Furniture's success and hear firsthand from local leaders about how the federal government can support economic recovery," said Bob Swindell, President/CEO of the Greater Fort Lauderdale Alliance, Broward County's official public/private partnership for economic development.