Azimut's Grande 36M's innovative charge and the unprecedented design of the semi-walkaround Upper Deck have once again been recognized as it earned the Best of Show award at the 2023 Fort Lauderdale International Boat Show (FLIBS). The award is organized by FLIBS, known as the No. 1 boat show in the U.S., in partnership with Fox Sports. 
"We are honored to win Best of Show for the Grande 36M," Federico Ferrante says, president of Azimut Benetti Americas. "It recognizes the ongoing design and innovation research Azimut is globally renowned for. The Upper Deck's infinity semi-walkaround layout, first seen on a boat of this size, runs seamlessly from stern to bow. This model, which premiered at Flibs, is already drawing incredible interest and this award is the best way to welcome her successful debut in the U.S. market."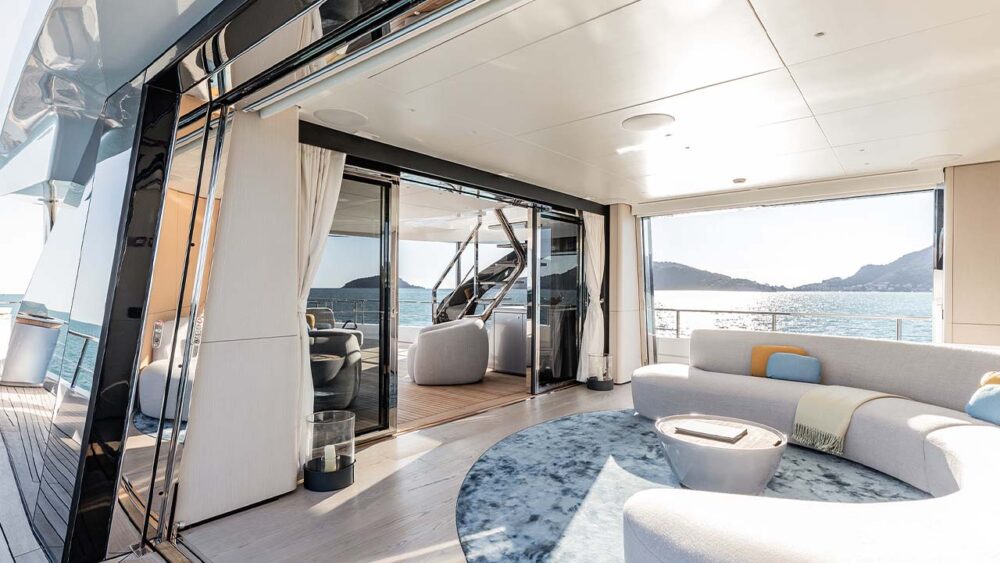 An independent jury chose the Grande 36M from eight finalists and recognized it for its innovative design, architecture, performance, and technology at the 64th edition of the Fort Lauderdale International Boat Show organized by Informa Markets.
"As an organization, we are firmly dedicated to being at the forefront of the industry, continuously setting the gold standard for excellence and innovation," Phil Purcell says, CEO and president of the Marine Industries Association of South Florida, which owns FLIBS. "Honoring Azimut and their remarkable team with this accolade at FLIBS signifies our commitment to leading the way in the world of boating and maritime excellence, and all the exceptional vessels which were showcased here are a testament to this dedication."
The Grande 36M superyacht is renowned for its innovative design solutions, including the semi-walkaround Upper Deck that spans from the stern to the extreme bow on a single level. This layout marks a significant revolution in creating an environment never seen on a boat of this size. The Skylounge's opening windows enhance the experience of a barrier-free lifestyle, and the deck transforms into a vast terrace that overlooks the horizon. Alberto Mancini draws the yacht's external lines with unmistakable style, while Achille Salvagni curates the interior design.
The Grande 36M is part of Azimut's Low Emission Yacht family, thanks to the high-efficiency D2P® Displacement-to-Planing hull, which P.L. AUSONIO Naval Architecture designed in collaboration with the shipyard's research and development office. Additionally, the yacht incorporates the extensive use of carbon fiber to reduce the weight of the superstructure. The combination of these design features enables the Grande 36M to reduce consumption and CO2 emissions by up to 30% at both fast and slow cruising speeds, compared to boats of the same weight and size with traditional hard-chine hulls.