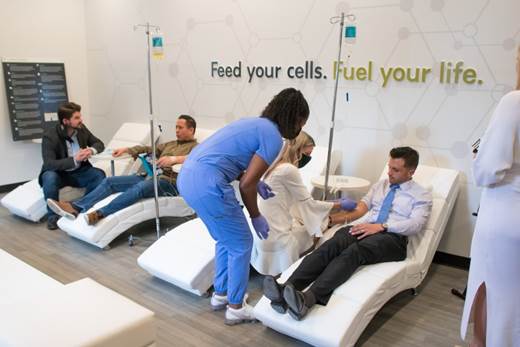 IV Therapy Franchise Plans Expansion Throughout Florida
The IV nutrient therapy company features a Fort Lauderdale office and has been franchising since 2019
The DRIPBaR, an IV nutrient therapy franchise, recently announced expansion plans throughout Florida, with franchisee representatives intending to expand the brand to over 100 new locations in the state.
"Now more than ever, people are starting to recognize the power of intravenous therapies to maintain their best health and are seeking new ways to complement conventional treatment options," Ben Crosbie says, DRIPBaR CEO. "This has always been the mission of The DRIPBaR and I can't wait to see the continued growth throughout the country and provide our services to people in need."
The brand currently has six locations open in Florida: Jacksonville, St. Johns, Tampa, Orlando, Melbourne and Fort Lauderdale. The company is expected to open as many as 50 locations in 2022, with nearly 450 in various stages of development.
"People of all ages are wanting to discover their best cellular health. The DRIPBaR is allowing franchisees and customers to see the best way to invest in an industry that is only going to keep growing," Candace Byrnes says, Chief Development Officer for DRIPBaR. "We are tremendously grateful for the growth The DRIPBaR has seen this past year and are so excited to be able to open more locations across the country."
Each DRIPBaR location offers 20 IV Lifestyle or Health Support drips, including the Jet Setter, Time Machine, Restoration, Flu Fighter, and High C. All IV drips are handled by registered nurses under the guidance of a licensed medical director. For those who don't have time for a complete IV vitamin infusion but are looking for the benefit, The DRIPBaR can provide a boost in just five minutes with one of its five IM Quick Shots. IV therapy offers positive nourishment for conditions such as the common cold, headaches, cancer and chronic illness and even helps slow the signs of aging.
Including a franchise fee of $55,000, the initial investment to open a 1,000 to 1,500 square foot location is around $136,500 to $338,300. The DRIPBaR offers first responder and Military discounts. For more information about the franchise opportunity, visit Thedripbar.com/own-a-dripbar.