[vc_row css_animation="" row_type="row" use_row_as_full_screen_section="no" type="full_width" angled_section="no" text_align="left" background_image_as_pattern="without_pattern"][vc_column][vc_column_text]
At Morelia Gourmet Paletas, don't expect your grandad's—or anyone's grandad's—paletas. With eight popular storefronts in South Florida including the original Coral Gables location, it has perfected its own way to recreate Mexico's famously handcrafted ice cream treats.
The key is variety: "We have at least a million combinations here," says co-owner Alex Kassab (there are six others) about his artisanal shop, now available for franchise opportunities. "You could come in every day for a year, and never munch the same paleta."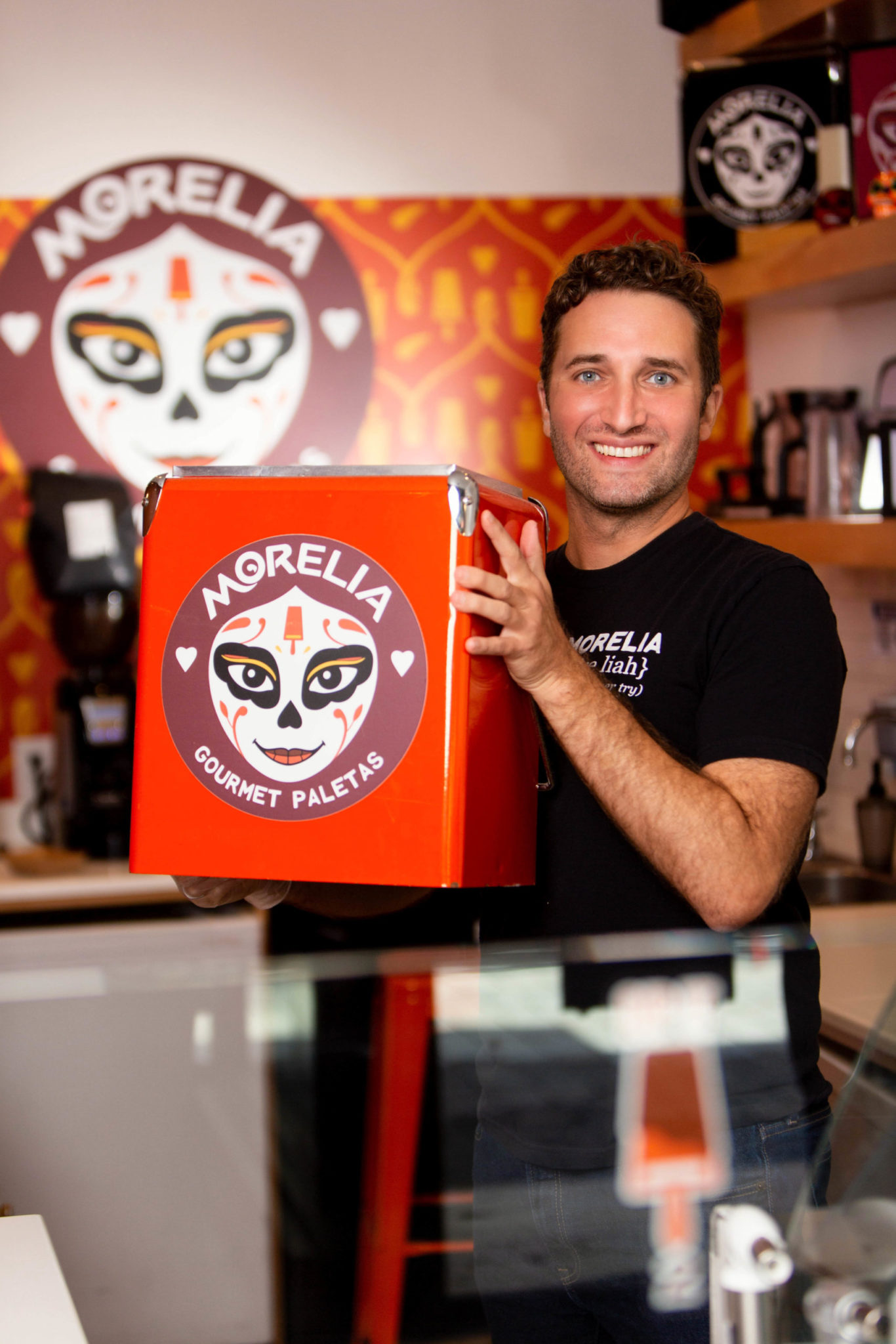 Traditionally, authentic Mexican paletas, whether water or milk-based, are not whipped while freezing (like ice cream or sherbet). Instead, palateros hand mold them, fit them with a stick, and leave them to harden in a freezer. "Our small batch paletas come in three categories," Kassab explains: fruity (no dairy, with chunky fruit flavors like mango or passion fruit), creamy (with a consistency and intensity like gelato), and filled (with unexpected combinations like Nutella inside banana).
But with its three-stage concept ("pick it, dip it, top it"), Morelia elevates and redefines the traditional rustic paleta. "We normally offer around 16 ice cream or iced fruit seasonal flavors on any given day," says Kassab. But that's just the base. To enhance the experience for each customer, a palatero customizes the next two steps—dip and top. The dip, usually white or dark chocolate, is followed by the topping, drawn from a range of confections, from cookie crumbles to nut crunch. The s'mores finish, Kassab insists, is the epitome of Morelia sublimity: "It's creamy marshmallow fluff, which we torch."
The idea for Morelia was born in 2013, when the founders, a group of friends living in Brazil with their young families, noticed a booming trend. "Mexican paletas were everywhere," Kassab says. "They were freshly made with exotic fruit, and easy to find in places like convenience store—a perfect snack." Hooked, they decided to try making them at home. "How hard could it be?" Kassab recalls now, laughing. Their hobby led to weekly paleta competitions among the families. "It was all in good fun. The children judged the flavors," Kassab remembers, adding that, in truth, the early attempts were not always pretty. "We've learned a lot since then."
[/vc_column_text][vc_empty_space][blockquote text="We chose the name Morelia to honor the heritage of paletas, which legend has it, first were made in the Mexican state of Michoacán. Morelia is the state capital. — Alex Kassab" show_quote_icon="yes"][vc_empty_space][vc_column_text]
Eventually, the crew of paleta-lovers, now co-owners, perfected their product, developing their distinctive "three-step" concept, which took the frosty snack to a new level. "We chose the name Morelia to honor the heritage of paletas, which legend has it, first were made in the Mexican state of Michoacán," said Kassab. "Morelia is the state capital."
Morelia chose the Miami area for its first paleta stop because the partners were looking for a place that had "summer 365 days of the year, and a mix of cultures naturally open to new things," Kassab says. "When we opened our first store in Coral Gables, in 2016, we were simply proud of our product," he says. "But right away, we discovered that that paletas were not the only thing we were selling. Our secret ingredient was the experience we offered."
Now he's encouraging others to share the paleta experience. Future palateros may inquire about signing up with the Morelia brand, thanks to a newly offered franchise opportunity as Morelia expands its easy-to-replicate model. Franchise fees start at $25,000, with additional licenses available for $20,000. Overall startup costs come in at around $88,100 and up, depending on model (kiosk or retail) and size of location.
Kassab says Morelia is about selling a culture as much as cashing in on creamy goodness. He notes that guests don't just drop into the store, grab an ice cream bar and leave. "Most people enjoy the ritual of the interactive process," he says, "including their conversation with the paletero. Most often, they sit down and stay for a while. Morelia has become a social occasion, an extension of their day.
[/vc_column_text][vc_empty_space][vc_single_image image="63383″ img_size="full" qode_css_animation=""][vc_empty_space][vc_column_text]Portraits by Larry Wood[/vc_column_text][/vc_column][/vc_row]