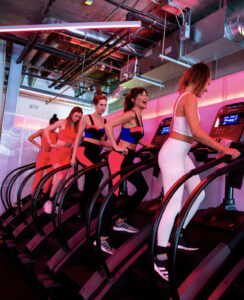 Two fitness retailers recently opened at CityPlace Doral with the debut of Anatomy, a premier health and wellness brand, and BÜNDA, a group fitness gym that incorporates the StairMaster into exercise classes. Anatomy and BÜNDA join CityPlace Doral's vast array of premium health and wellness offerings, including 4Ever Young, Venetian Nail Spa, Semper Laser, Tipsy Salon Bar, WIN Fitness Wear and ManCave for Men.
"We are thrilled to welcome Anatomy and BÜNDA to CityPlace Doral," Mauro Olivieri says, general manager at CityPlace Doral. "Joining our wide array of flourishing dining, entertainment and shopping experiences, Anatomy and BÜNDA supplement our health and wellness offerings and bring a new and dynamic workout experience to our guests."
Anatomy at CityPlace Doral is at 3450 NW 83rd Ave., Suite 200, which marks Anatomy's fifth location in South Florida and seventh location in the U.S. Anatomy incorporates sports performance and the science of strength conditioning and will encompass 14,000 square feet at CityPlace Doral. Anatomy has clubs in Miami Beach, Midtown, Coconut Grove and at the 1 Hotel South Beach in South Florida as well as clubs at 1 Hotel Nashville and 1 Hotel Hanalei Bay. 
BÜNDA is at 3535 NW 83rd Ave., Suite 113 and is the first gym to incorporate the StairMaster in group fitness. The 50-minute workout class combines the StairMaster and resistance training using its signature "Bünda Station" to burn fat and gain lean muscle. The patented "BÜNDA Station" has bands, a bench and a slide board for weight training for total body workouts. Its workout programs are backed by science and developed by fitness professionals based on form and progressions, not intervals and intensity. 
Focusing on providing wellness to its customers, CityPlace Doral also welcomed WIN Fitness Wear, a Peruvian women's sportswear brand, to the center in winter 2022 and ManCave For Men, a full-service luxury barber shop, in January 2023.