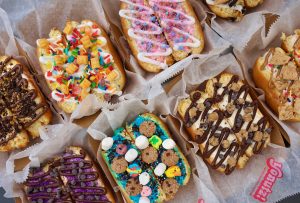 Yonutz has undergone a company rebrand as it prepares to embark on a nationwide franchise expansion. The creators of the hit SMASH Donuts plan to open seven new locations this year, with another 20 locations in the works across the country. Its signature SMASH Donut features a fluffy, homemade donut stuffed with ice cream, smashed and hot-pressed and topped with bits of candy or cookies.
The dessert brand is the two-time winner of "Dessert Wars," which recently renovated its Yonutz flagship location in Sunrise. All current storefronts and new franchise locations will mirror the refreshed and creative space displaying the new Yonutz logo and signage, custom murals, Instagrammable neon signs, colorful countertops and revamped bar areas with additional seating. 
"Our goal with this rebrand and franchising is to expand upon the fun and innovative Yonutz brand," Tony Bahu says, CEO and Founder of Yonutz. "With our elaborate desserts, immersive ambiance, colorful packaging and outstanding customer service, we will continue to provide a fantastical experience to dessert lovers everywhere and allow fans all over the United States to partake in the Yonutz experience."
This year, franchise locations set to open will be in Orem, UT, Sandy, UT, Boise, ID, Oklahoma City, OK, Greenwood, CO and two locations in Houston, TX. 
As part of the rebranding for Yonutz, guests entering each store will be greeted by an Instagrammable photo wall with a neon 'SMASH THE ORDINARY' sign. The dining areas feature a custom, fantasyland-themed mural and a SMASH Donut wall that outlines how to make a one-of-a-kind SMASH Donut dessert. The countertops will feature endless gourmet donuts and treats for customers and high-definition TV screens will display various SMASH products. To create its whimsical dessert wonderland experience, all guests will have front row access to watch the team members craft the unique recipes. They can even take home a piece of their favorite dessert shop with trendy merchandise and vibrant multi-colored packaging. 
"By creating such an innovative and immersive experience, guests from all over the country will finally get to indulge in our one-of-a-kind products, like the SMASH Donut, that truly sets us apart," Jennifer Bahu says, COO and Founder of Yonutz. "We are so thrilled to be able to share our excitement and fantastical desserts with new customers." 
Tony and Jennifer Bahu, who created the award-winning concept, caught the attention of Kevin Harrington, a former "Shark" from NBC's Shark Tank show and is now a partner. The Sunrise location is at 121 NW 136th Ave.
For information about franchising with Yonutz, visit yonutz.com/franchising.