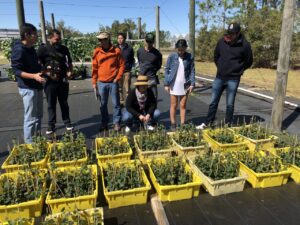 As the craft brew industry has grown sustainably over the last decade, so has people's interest in learning how to brew their own concoctions at home. To help novices learn the finer details of crafting beer at home, Master Brewer Academy (MBA) will offer a new program next year.
The 11-month program will be held on nights and weekends starting Jan. 5, which includes a three-week internship. Founded and led by MBA's Director of Education Todd Space, the brewing curriculum is taught inside South Florida's most noteworthy breweries, including Est. 33 (where Todd is the head brewer), Cerveceria La Tropical, The Tank Brewing Co., and Tarpon River Brewing, and taught by their respective head brewers.
"South Florida's thriving brewing scene welcomes students to literally tap into the market and learn all phases of beer production," Space says, who has 20 years of experience as a brewer and professional science teacher. "From grinding malt to adjusting water chemistry and propagating yeast in the lab, MBA students will gain the knowledge and application to work toward becoming a brewer. "
The MBA curriculum is designed for various learning styles and emphasizes the need for hands-on, practical instruction. It balances the art and science of brewing by covering a range of industry subjects, including brewing science, field technology, equipment and the beer business. MBA graduates have gone on to brew at breweries across Florida, the U.S., and Central and South America.  
The Master Brewer Academy consists of four modules containing 11 different topics. Although enrollees are encouraged to go through the entire 11 months, drop-ins are welcome, with 12 seats available per topic. Current industry employees are encouraged to enhance their learning by jumping into topics that will round out their brewery skill sets.
Classes will be held Tuesdays and Thursdays from 6 p.m. to 9:30 p.m. and on Saturdays from 10 a.m. to 3:30 p.m. Students can enroll in the 11-month program for $7,950 (there is a 15% "pay in full" discount). They will receive a "Certificate of Completion" after completing all coursework and required internship hours.  
Module 1:

 The Science of Brewing – 4 topics

Module 2:

 Brewing Equipment and Technology – 3 topics

Module 3:

 Internship 

Module 4

: Advanced Topics – 4 topics
"Master Brewer Academy strives to be a driving force in the region's emerging status as a leader in the brewing arena," Space says. "We are helping to build credibility for South Florida's craft brew community by providing locally trained people with a solid foundation in brewing science."