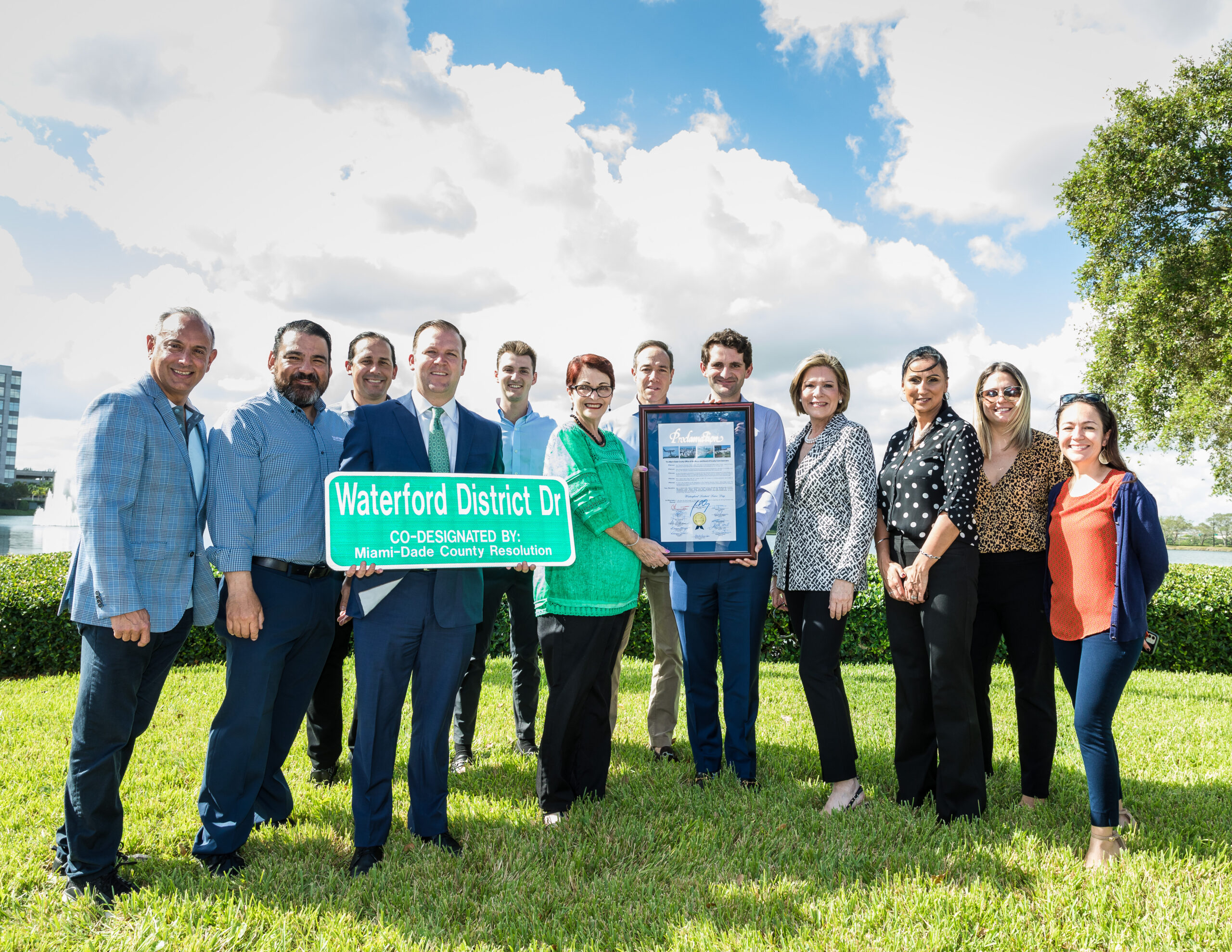 Miami's Waterford Business District Unveils New Name of its Main Street
Miami-Dade officially renamed the Blue Lagoon Drive road
The main entrance to the Waterford Business District (WBD) has officially been designated as "Waterford District Drive." The 250-acre professional hub is a joint venture between Nuveen Real Estate and Allianz Real Estate. Blanca Commercial Real Estate, Cushman & Wakefield and Strategic Access Group also attended the renaming ceremony.
Located adjacent to Miami International Airport, Waterford Business District is home to more than three million square feet of office space, highlighted by nine hotels, 272 residential units, and a new retail center featuring unique food and beverage offerings. After undergoing $30 million in capital improvements and launching new tenant services, the center has attracted new and renewing tenants to encompass more than 700,000 square feet of office space since its initial brand relaunch in 2019.
"Renaming Water Business District's main entrance as "Waterford District Drive" is a testament to the community's strong sense of collaboration, innovation, and workplace diversity," Tere Blanca says, Chairman & CEO of Blanca. "As we continue to work towards capital improvements and implement strategies that cater to world-class corporate users, we are happy to unite the area under the identity of a primary business district where work gets done."
Tenants at WBD include Pernod Ricard Travel Retail, Finsight Group, Southeastern Management, Swatch Group, Rohde & Schwarz, The RealReal, Franchise World Headquarters (Subway), Toyota, Yamaha, FedEx, Atkins, Sony, Gilead, Novartis, SAP, FirstBank, Molson Coors BK, Estee Lauder, Marriott, Hilton and more.
"Our vision for the Waterford Business District has never been more clear," Charles Russo says, Nuveen's Office Sector and Life Science SE Regional Head and Senior Director. "As we continue to expand the area with new transit connectivity, multifamily housing opportunities, collaborative lounges, wellness offerings, and more, we are one step closer towards creating the global professional business hub we have set out to offer our tenants," said "Renaming Blue Lagoon Drive as Waterford District Drive is a tribute to the area's continued growth into a fully integrated corporate campus that offers sophistication, efficiency, and convenience all in the heart of Miami.