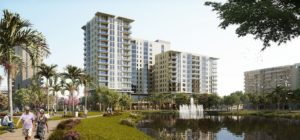 Fort Lauderdale-based Moss Construction recently announced that it was awarded a $120 million contract for the John Knox Village senior living residences located at 651 SW Sixth St. in Pompano Beach.
The first phase of construction has already started. The 37,117 square-foot project will consist of a first level Pavilion featuring a Performing Arts Center for seating of 350+, pre and post-event gallery space, The Pearl and Seaglass restaurants, with indoor and lakeside dining, and the Nautilus Bar in between the two. The Pavilion will also include a lakefront promenade and gathering spaces.
"We're thrilled that John Knox Village, an internationally award-winning Life Plan Retirement Community on 70 acres in Pompano Beach, has chosen us to complete this incredible senior living project that's been designed with so many wonderful amenities," said Andrew McAllister, co-president of Moss' South Florida region. "Once again we're pleased to be adding to the fabric of South Florida with a luxury project that will serve the senior community for years to come."  
The second phase is anticipated to start in the first quarter 2022. The 471,396 square-foot project will include two podium style towers with 150 independent-living residences, a 153-spot parking garage, with The French Press Bakery, Coffee and Wine Bar, the Westlake Eatery, high-tech projection theater, technology hub, business center, fitness studio, work spaces, art studio, a Sacred space, club room, new resident lounges, a virtual reality studio, garden and outdoor lakeside seating and gathering spots.  
 The senior living project will also involve infrastructure improvements and revisions to lakes and roadways in the vicinity.  
Above: Rendering of a unit kitchen